AdThrive Alternatives – How To Get The Most Bang For Your Buck With Display Ads
The cat is out of the bag for most people when it comes to making money from Display Ads on your blog.
Over the past decade, a ton of new advertisers have appeared on the scene, allowing Website owners to earn up to 1000% more per visitor than with Google Adsense.
AdThrive is one of the leading Ad Networks in the market at the moment but they have an incredibly high minimum traffic threshold and they are notoriously difficult to get accepted by as well. There are companies like Ezoic and Monumetric who will take you on at a far lower level of traffic however and there are also companies like Mediavine who offer higher earnings.
Read on to the end to discover our key strategy for maximizing your blog earnings for every stage of growth your website goes through.
| | | | |
| --- | --- | --- | --- |
| | EZOIC | MEDIAVINE | ADTHRIVE |
| Entry Requirements | Low (10k Pageviews P/M) | High (50k Sessions P/M) | Very High(1ook Sessions P/M) |
| Approval Process | Quick And Easy | Slow But Good | Fast But Picky |
| Set Up Process | Excellent | Excellent | Very Good |
| Quality Of Ads | Ok | Excellent | Excellent |
| Video Player | Yes (Beta) | Yes | Yes |
| Dashboard | Excellent | Excellent | Very Good |
| RPM's | Medium | Very High | High |
| Community | Not Really | Excellent | No |
| Biggest Con | Ezoic Premium | Slow Payment | Hard To Get In |
| Payment Terms | Net 30 | Net 60 | Net 45 |
| Overall Score | 88/100 | 98/100 | 78/100 |
Why People Need An Alternative To AdThrive In The First Place
There is three reasons you might be looking for an alternative to AdThrive.
Don't Have Enough Traffic
At 100,000 Sessions per month as a minimum requirement, AdThrive are letting you know that they only want to work with the largest of sites.
Over 3,500 Sessions per day may take years to build up and if you haven't reach the requirements, we recommend Ezoic.
You can sign up for Ezoic here:

AdThrive Aren't Paying Enough
If you heard mystical stories of earning $20 or even $30 per 1,000 visitors with AdThrive and it just hasn't panned out, it might be time to look at another company that we highly recommend.
Mediavine have offered us more in terms of revenue per thousand visitors than AdThrive on almost every occasion and have half the minimum traffic requirement at 50,000 sessions per month.
Sign up for Mediavine Here:

Or Read On To Find Out More:
Rejected By AdThrive
The other reason that you might be looking for an alternative to AdThrive is if they rejected your application which happens quite a lot.
They have a certain type of Blog Niche they are looking for and are likely to reject you if you don't fit into one of their categories like Food or Fashion.
Depending On How Much Traffic you earn, we would usually recommend Ezoic or Mediavine instead, but there is one other company that might be worth a try, depending on your level of traffic.
Monumetric As An Alternative To Ezoic
So, if you have a smaller site with 10,000 sessions per month and you have been disappointed by Ezoic, there is still hope for you to earn decent RPM's until you can make that move over to Mediavine at 50,000 sessions.
Monumetric are undoubtedly a company that likes to go after the big players in the game but with that being said, they do have an option in 'Propel' for smaller sites to get up and running.
The biggest drawback is that there is a $99 fee for the propel program so you have to fork out before you earn, not exactly what you want to hear with a smaller site, I know!
Check Out Monumetric Here:

Or Read On To Find Out More:
Ezoic Vs Adthrive In More Detail
Set Up And Installation
Ezoic are a company that are quick to approve or reject (rare) your site.
You should get an email back from them within days to let you know that they are ready to set you up on their system.
There is two ways to install Ezoic's software:
The Ezoic Plugin
Changing The DNS Serves which they recommend.
Set up is fast and seamless and within 24 hours, should see that increased income streaming through.
Ezoic will set up their recommended placements for you and we generally recommend to stick with what they set up for you.
Machine Learning & Artificial Intelligence:
Ezoic use Machine Learning to continuously Split Test which Ads and combinations of Ads works the best.
As the system collects data over the first few months you should see your RPM's start to steadily rise.
The AI component also decides on the amount of Ads to show on your web page in real time and continuously split tests this also.
If two advertisers are bidding high in the auction, it might be worth more money to you to only show 1 of the ads for a higher price.
This is the basis of how Ezoic will make you more money.
Certified Google Publishing Partner:
All Ad Platforms in today's article are Certified partners giving them access to the Double Click Ad Exchange.
This means better Ads and better revenue than Adsense, guaranteed.
All of the platforms also work with premium advertisers, but Ezoic do it a little bit differently:
Ezoic Premium

Ezoic charge you a fee for access to their premium partners.
There are different tiers you can sign up for, each costing different amounts and offering higher returns as you move up the scale.
The way it works is that Ezoic offer you more money than you pay each month, guaranteed.
You can either sign a 1 month or a 1 year contract depending on your preferences but I would hesitate to chain myself to 1 company for a year with my blog.
Show Me The Money
Ezoic can earn you around 300% – 500% more than Adsense.
Again these are rough figures that will vary by site and by Niche so take these with a pinch of salt.
I have typically earned from $10 – $12 RPM's with Ezoic which is around half of what you can get with AdThrive and a third of what you get with Mediavine.
Keep in mind this will increase with Premium but you need to pay monthly for this.
You can sign up for Ezoic here:

Mediavine Vs AdThrive In More Detail
This is undoubtedly the battle of the heavyweights when it comes to Display Ad Networks.
Both go after high traffic sites, have premium offerings and claim to offer the highest returns.
Mediavine Set Up, On Boarding And installation
The biggest problem with Mediavine is that they get so many applications, it is going to take a few weeks for them to get you approved.
It took us over us over a month but it was worth the wait.
Once accepted, you get a developer onto your site who fixes up anything needed for maximum ad revenue and your site is good to go.
You set up Mediavine through a plugin without any intrusive DNS settings like with Ezoic.
You also get introduced to the community on Facebook which is really awesome.
The Dashboard
Mediavine have recently revamped their dashboard and the result is one of the most comprehensive around.
You get to see everything from:
Revenue for each page
Revenue per sessions
Revenue per page view
Revenue by device
Revenue by country
The health of your ads
Increasing or decreasing over time
You also get great control of the amounts and types of ads on your site, so you can play around until you find the best settings.
The dashboard offers a lot more information than AdThrive and a good deal more than Ezoic.
Loyalty Program
While Ezoic remain secretive about the percentage of the money that you actually get the keep, Mediavine are up front and honest about it.
Mediavine pays you 75% of the revenue starting off and if you get to around 15,000 pageviews per day they will give you an extra 5%.
There is also a yearly bonus of 1% for remaining loyal to the company.
Another reason why I choose Mediavine as my number one paid ads partner.
The Community
Blogging can be a pretty lonely occupation if you don't have a partner who understands what you are doing.
It is also a notoriously difficult industry to keep up to date with as everybody is so secretive about what they are up to.
The Mediavine community is a breath of fresh air when it comes to talking about what you are up to and networking with some of the best minds in the business.
I often find out all about the blogosspheres latest trends through this group.
No other Ad Network has a community to match Mediavine.
Mediavines Earnings Are The Highest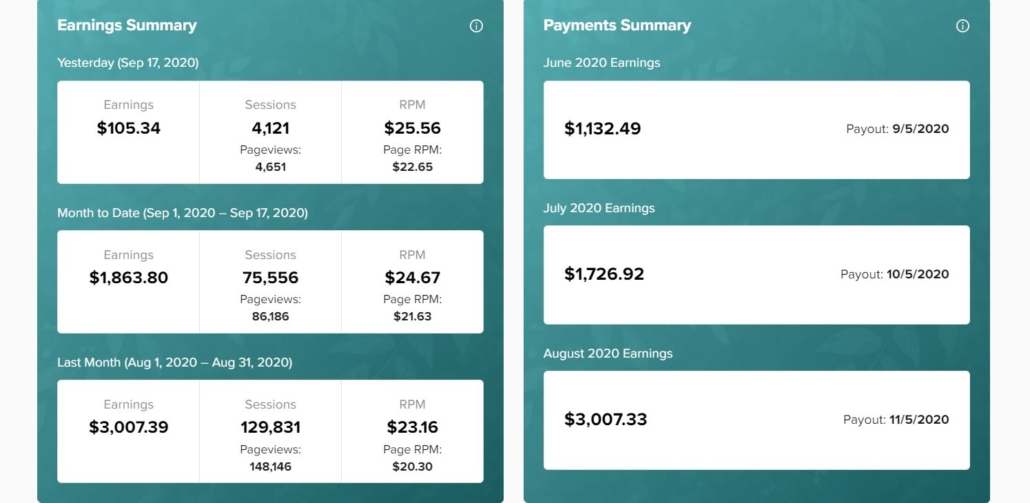 SHOW ME THE MONEY! I hear you scream and I totally get you.
Mediavine offers the highest revenue that we have seen out of any Ad Platform.
Don't be fooled by the higher requirements of AdThrive, Mediavine almost always pay more.
Where we earned a maximum of $20 RPMs with Adthrive, we earned up to $36 with Mediavine.
That is almost 100% more, and contributes to making Mediavine a better all round platform.
Monumetric
Monumetric is worth a mention!
If for whatever reason, you can't get accepted to any of the other platforms, I would consider signing up with Monumetric.
They are going to be able to earn you somewhere around the same levels as Ezoic and even slightly higher for some niches.
Monumetric Have 4 different tiers, all offering more value as you Ascend through them:
Propel: 10k – 80k Sessions
Ascend: 80k – 500k Sessions
Stratos: 500k – 10m Sessions :O
Apollo: 10m Sessions Plus
10 million sessions a month would be 328,000 sessions a day which would earn you around $10k per day with Mediavine and around half of that with Monumetric.
Access to their premium offering starts at the Ascend package and you get your own Ad Support specialist at 10m sessions. Hmmm I wonder why. Ha!
You also get a free site audit at the Ascend program and there are new benefits with each level you make it to.
I would only recommend Monumetric if you cant get accepted to another platform or your earnings are poor with Ezoic.
Video Players
All options now have Video players available to boost your earnings even further.
Ezoic was the last to the party in this regard and they now have their video player in Beta.
A great way to make extra earnings.
Biggest Complaints With Each Platform
Ezoic – Sites Speed
Ezoic can really make a dent in your site speed, much worse than the others as they don't lazy load their Ads.
To combat this, Ezoic offers a site speed service that you pay for per month. I would have surely thought that this was a one off optimization. But there you go.
Ezoic Premium? Really guys!
This is going to rub a lot of people the wrong way, why not just take the amount I have to pay out of the premium earnings? It doesn't make sense.
I think it is more about the yearly contracts. Something doesn't sit right with this service.
Ads Are Intrusive
Out of all the platforms, Ezoics are the most intrusive. They stand out a lot and impede the content at times.
That being said, you have complete control of their placements.
Earnings Are Hit And Miss
We have had three sites on Ezoic – One did around $8, another does around $12 and one does $2!
It is a hit and miss platform for many.
Mediavine – Slow Acceptance
Mediavine take a while to get you into the program.
Once in it should be plain sailing from there however.
Mediavine Net 60 Payment Terms
You don't get paid until 90 days after you start with Mediavine.
A problem at the start but I don't mind seeing my money pile up within the dashboard at the moment.
AdThrive – High Barrier – Very Picky
100k Sessions per month is a large site and you still mightn't even get in.
AdThrive have the types of sites that they like and if you are not in these Niches, you might not be able to get into the platform.
RPMS Are Lower
The RPMS are considerably lower than Mediavine, they are not transparent about the amount of the revenue you can keep and the barriers are higher anyway.
Dashboard
The dashboard at Adthrive simply doesn't have as much info as Mediavine or Ezoic. Not that big a problem but worth noting.
Our Secret Sauce Formula For Max Earnings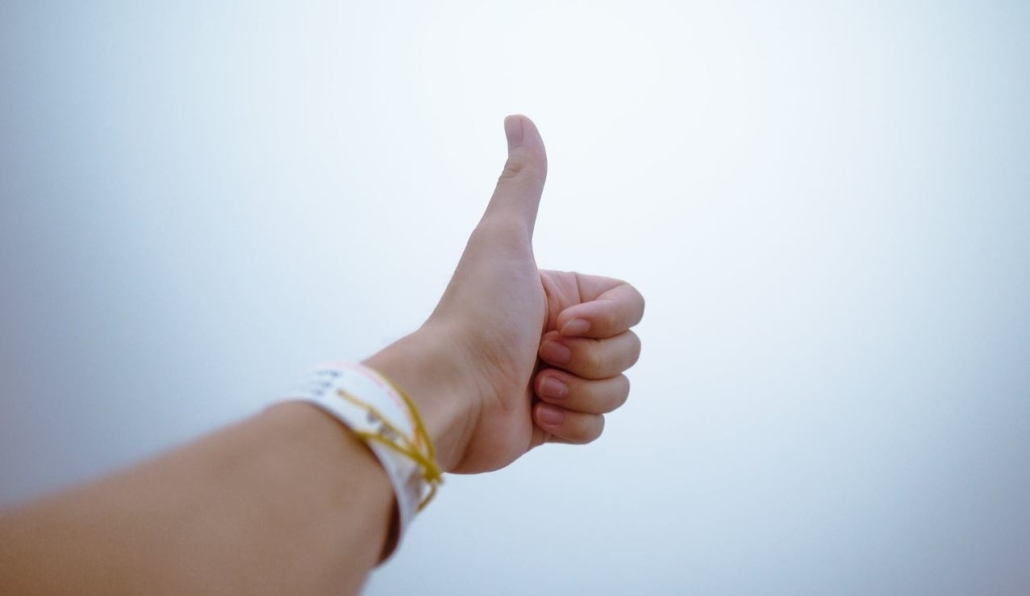 1. Sign up for Ezoic at 10,000 Pageviews Per Month.
You can sign up here:

2. Once you hit 50,000 sessions a month, apply for Mediavine and stick with them for the rest of your life.
Sign Up Here: