Audible Review 2022 – Complete Review Of The Pros And Cons
I discovered online learning and self development a number of years ago on my long drives to work and haven't looked back since.
I am also a self admitted Audiobook junkie and Audible is the premium platform for Audiobooks in the world today. Audible has been a key factor in allowing me to grow and scale multiple online businesses and blogs over the years. It is an easy to use platform with a free 1 month trial and you then pay a monthly $15 subscription and get a credit to spend on any audiobook you like every month. There is a huge selection, you can buy additional credits for a reduced fee and there are unlimited 'No Questions Asked' returns. Audible is quality a service and with the free trial, I don't see any reason not to give it a try for yourself.
What is Audible?
Audible is platform that allows you to download the newest and best books in the world straight to your Phone or Laptop.
You can even switch seamlessly from The E-Book on Kindle to the Audio Version of your phone and it will pick up the spot where you left off on either device.
You even get a free 30 day trial where you can download the mobile app to any device and get two free books of any value.
Read on to discover more awesome features of this amazing service.
About The Author
Im Aidan Lehane, A Blogger, Online Entrepreneur And Audiobook Lover.
I started my first business in 2015 and I quickly fell in love with Audiobooks, listening to them almost every day since.
Increasing my knowledge through audiobooks on the drive in and out from work was a key ingredient in my success strategy.
I use to listen on Youtube but I couldn't get some of the key titles so I quickly upgraded to Audible and haven't look back since.
The Case For Audible
Free Trial
Listen On Your Phone Or Desktop
1 Or 2 Credits Per Month Included
Extra Credits For A Discount
Free Unlimited Returns
Huge Selection
Quality Browsing Features
Reading books is key for keeping your mind sharp and upgrading your knowledge.
Audio books and audio programs are not something that is new. These types of tapes and programs have been around since the 70's but the internet has simply made audiobooks so much more accessible that they have become a major trend in recent years.
"The average CEO reads 52 books a year. The average employee reads less than 1." which do you want to be?
Audiobooks have been a gold mine of knowledge for me as a business owner and the books are even read out loud by the Author for an amazingly authentic experience.
What Does An Audible Membership Give You?
You start off with a Free 30 Day Trial of Audible with 2 credits to try out a 2 books of your choice absolutely free.
You get the App on your phone or you can listen through the website on your laptop or desktop.
If you like the App after the month, you sign up for a subscription which will either come with 1 or 2 credits per month.
1 Credit = 1 Book Purchase
You can also buy an additional 3 credits for a reduced free or you can just pay the price for the book without a credit.
The concept of Audiobooks sounds too good to be true, especially in today's modern world. You can get all the benefits of reading books without having to set time aside to read. You can listen to them on the drive to work, working out at the gym, out jogging or on a walk. You can even listen while working and research has shown that the benefits and retention levels are very similar to physically reading.
Largest Selection Of Titles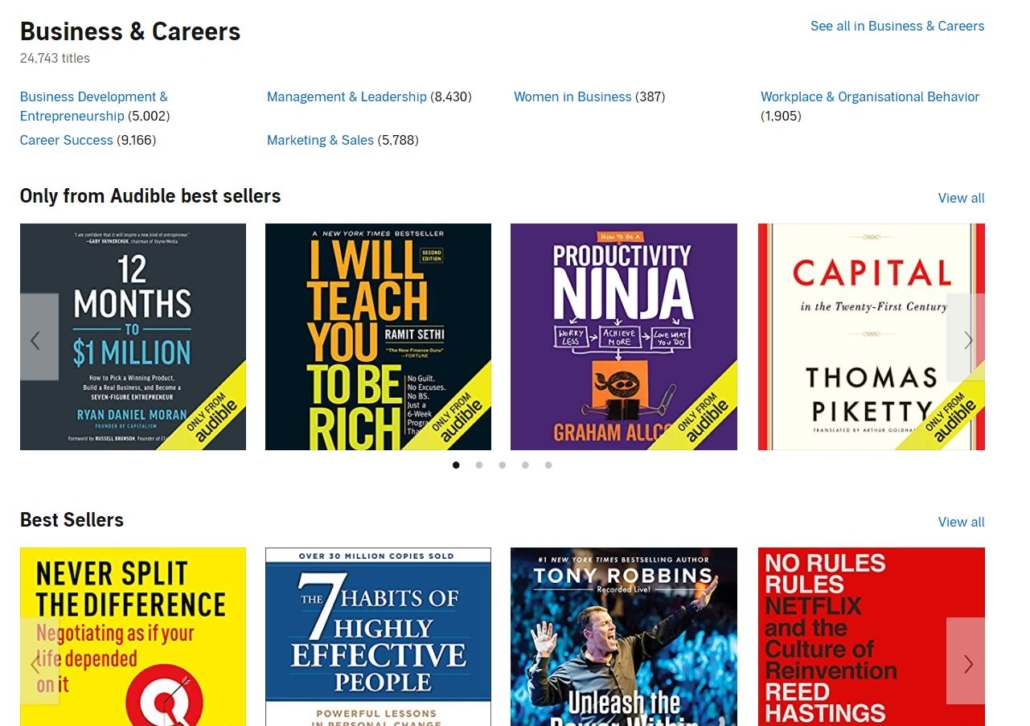 1 characteristic that is going to set one audiobook platform apart from it's competition is in how many titles are available to read.
The good news for Audible is that it is leading the way when it comes to the amount of titles that are available on the platform with over 500,000 titles ready to chose from in every niche imaginable.
I am a Business and Biography guy and to be honest, it is rare that I will see a book I want to read and it is not available on Amazon. but it does happen occassionally.
Other Categories Include:
Mystery, Thriller, Suspense
History
Action & Adventure
Health And Wellness
Literature & Fiction
Classic
Film & TV
Quality Browsing Features
Finding your next read can be a difficult yet enjoyable task. We know that Amazon on a company has made its business and reputation by suggestion products to it's users that they will like to buy and that is no different with Audible.
Wish List
As you are browsing, you can add a title to your Wish List for a possible future purpose or for evaluation a number of titles. You can then see your full wish list displayed.
Home Screen
On your home screen, you will see recommended title based on your previous purchases, based on your wish list and based on your recently viewed books.
These lists are usually spot on and a great way to pick out your next books.
They also have a selection of best sellers, new releases and special offers currently available.
Browsing
When you click into a category there are many sub-categories which will pop up on the side to allow you to hone into exactly the type of book you are looking for.
You can also click into all books in the category and sort by things like relevance, average rating or Best-Selling.
Amazon have the browsing features down to a tee with Audible.
Free Returns
People may be divided about this but If I buy a book and I don't really like it, I will return it without hesitation and this is an unlimited feature.
You cont have to go onto chat and talk with them about returning a book it is a full automatic process.
Even if you don't want a book cluttering your library or you just want classics there, you can complete unlimited returns and simply select another book.
When I started in business and I was broke, I admit I abused this feature a bit to read as many books as possible.
I am ashamed to say that I abused it to the point where I wasn't able to return automatically anymore and had to go through a dance in online chat every time I wanted to return a book which I also shamelessly did too many times to remember until I was fully on my feet.
You Can Buy Summaries
Some books are long and drawn out and you might not want to read the whole thing. Audible has a huge selection of book summaries which will allow you to get all the key points without investing all your time into listening to the full book.
I often make use of this if I hear someone mentioning a book on Youtube and I don't want to listen to the whole thing.
Books Straight To Your Phone
I guess one of the main drawbacks of physical books is that you need to set aside time in a quiet place to read them. I get that this can also be an advantage but Audible makes listen to books super convenient.
You download the Audible App to your phone and as soon as the purchase is complete, the book will show up in your phones library, ready to download and listen to in minutes.
Any where you go, you then have your audiobook available to listen to.
Quality Social Stats About Your Progress
The App is a real selling point of Audible, it tracks your total time listened, badges you have earned and your reading level.
I guess I have got most of these now but I admit I used to be addicting to improving my stats.
The ultimate Win-Win situation. More Stats – More Reading – More Knowledge
Listen On Desktop
A lot of the work I do is intensive and needs full attention but there are also plenty of times when I am doing high level data entry and I can listen some audiobooks while I do the meaningless tasks that are still to important to be outsourced like putting articles onto a website in a visually appealing way.
It's a choice between music, audiobooks and podcasts and I admit that music sometimes wins but audiobooks get their share of airtime too and it is a great to multi task.
Switch From Kindle E-Book To Audio Phone Back Seamlessly
This is actually one of the coolest features that I find with Audible and that is the way you can listen to 1 hour on the audiobook while you are working out.
Get home, lie on the bed, open your kindle and the E-Book version will open up at the exact spot where you stopped listening to the audio.
Head out for a walk and the audio will pick up where you left off with the E-book version on the Kindle.
A pretty impressive feature overall when you consider the great debate about Reading vs Audiobooks. Why not get the best of both worlds
You Own The Book Forever
With Audible, once you buy the book and download it, it is your for ever. Even if you cancel your subscription, you will still have the books you have already bought in your library forever.
While this is mostly true for competitors like Audiobooks.com, there are some VIP books on there subscription that will disappear if you cancel your plan.
Audible are the only platform to offer unlimited returns too.
Listen While Exercising Or Working Or On Trips
It's hard to find time to exercise as a busy entrepreneur but it also crucial and doubling this time with quality knowledge from an audiobook increases to value of the time and if you are listening to a motivating book it can even push you to work out harder in the gym.
Long walks with a coffee and an audiobook are also a favourite past time of mine or on buses and trains around the world as I travel from place to place as a Digital Nomad.
As I already mentioned, turning my drives to work into a mobile university with Audible is one of the key reasons I was able to get my first business off the ground.
Speed Up The Narration To Get More Knowledge Faster
Another key benefit of Audible is that you can speed up the narration to get through more quicker. This is a trick I first learned from Rob Moore's audiobook – Life Leverage.
Some narrators are slow and some are faster and with that in mind, I usually listen to audiobooks at a speed of between 1.2 to 1.7.
I tend to go faster when the narrator is slower or the topic of the book is not as interested and I just want to get through it as quickly as possible.
Hit Your Reading Goals
We all start off the New Year with massive plans of how we are going to change our lives and reading more books is something that makes a lot of lists but falls through the cracks before it even starts.
I set out to read more than the previous year and not only does Audible track your listening times, it tells you how many titles you have read and we all know what they say. What gets measured gets improved.
Audible is so convenient, cost effective and easy to use, it helps me to reach my reading goals year in year out.
Books Read By The Author
Another key reasons why I love audiobooks so much is because many of the titles are read by the author themselves and contain extra content than you will find in just the book version.
I even read a book by Kevin Hart recently that was only available in audio format which an awesome and new concept.
Having the book read directly to you by the author is a great way to get exactly what he means when he wrote the words.
It's easy to see why it makes sense for the author to read the book, because they get a chance to review it and correct any mistakes from the print version.
Expand Your Knowledge
As an entrepreneur, I am extremely attracted to reading about the successful people that have come before me, business books that teach things like selling and scaling businesses and many other knowledge rich books.
I would never be able to get through the amount of knowledge I consume through audible with traditional books because I wouldn't be able to set the time aside from a super busy schedule that already encompasses plenty of 14 hour days.
Audible is an awesome way to expand your knowledge on any topic. Authors are giving all the knowledge they know in one book and you have the chance to learn from their mistakes.
Free Trial
As mentioned the free trial is one of the best reasons to give Audible a try today.
You get full access to all of the features.
You get to choose 2 free books of your choice
You get the free mobile app
Cancel at any time.
Only sign up for the monthly membership if you want to.
Extra Credits & Books Are Relatively Cheap
The monthly subscription with 1 credit will cost around $15 and if you want to buy an additional 3 credits, it will cost about $24 which is very reasonable as it can get you any book in the library.
Sometimes the book you want will cost less than this and you can just pay the additional amount for the book.
Sometimes they will also cost a lot more and you can make a big saving by buying it with a credit.
Remember you can also return any book at any time so 1 credit can get you as many books as you want technically.
Personally I think they should offer an all you can eat package but it would probably cost a good bit more than $12 a month.
Credits Build Up
I remember subscribing to Shutterstock and I was absolutely appalled that they would delete your credits at the end of the month if you didn't use them.
What's worse is that they tie you in for a 12 month contract. I am confident that they will pay the price for this anti customer approach in the near future.
Adobe Stock was expensive but at least you credits build and there are even free Stock image sites like Pixabay where you don't have to pay at all.
Anyway.. Rant Over.. Your credits build up in Audible and they never expire so if you take a break, you will have a nice few credits to catch up on when you take up the audiobooks again.
Cons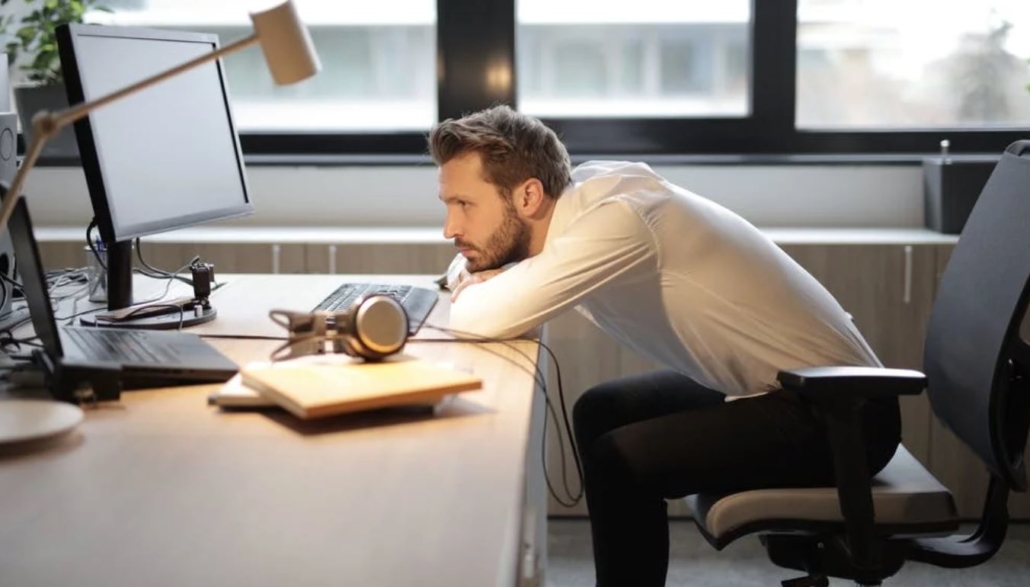 I wish it was all Pros but there are cons to everything and Audible is no different but hopefully the pros outweigh the cons.
1. Can Zone Out While Listening
Something that happens a lot if I am out walking and listening to an audiobook. My mind will start to drift and I will realize after a few minutes that I haven't been listening at all or I will miss something important and have to rewind.
Listening for too long can use up my attention span as well and I will need to end the days session.
This is more of problem with the medium than the platform though.
2. Takes Up A Lot Of Space
My phone is already kind of full from various travelling apps, photos, videos and the constant bombardment of information from Whatsapp.
Ok, it might be time to upgrade my phone but still, some of these books take up a huge amount of space.
Something like the 48 Laws of Power of the Or Laws of Human Nature By Robert Greene are over 20 hours long and they take up a lot of valuable space.
When the space gets full, you can simply remove the titles from the phone but there is nothing worse than needing to free up so space in a rush from your phone.
Like when you need to Ryanair app to board a flight and you don't have enough space to download it.
3. Hard To Disect The Information And Take Effective Notes
If you are someone that likes to take notes as they read or listen. The audible app doesn't make it too easy, especially if you are walking or working out.
I have tried writing down in a text editor as I listen but it is a cumbersome process.
It's easier to highlight and take notes from a physical book or else dedicating some time to listen and take notes.
If you want to listen to a particular piece of the book again it can be almost impossible to find and if you leave the book playing by accident, good luck finding your way back to the exact place you were at.
There is a bookmark feature but it doesn't work the best
4. Recurring Subscription Rather Than Pay To Use
You cant just pay for the books as you go, you need to sign up to the monthly subscription but you can pause or cancel your subscription anytime and the cost of the subscription is actually less than the cost of most books anyway so it is good value overall.
5. Pay For Extra Books
As mentioned, I believe there should be an all you can eat option but instead you need to pay for extra credits.
Again it is good value and you can save substantially by buying 3 credits in one go.
The option for free returns is also always available
Alternatives To Audible?
As with any platform, there are always some alternatives to chose from but in the case of Audible, the competitors are just not as good.
Youtube
I started my audiobook career using Youtube which has plenty of the classics but it doesn't have the best new releases.
Pros
Free
Easy To Use
Remembers Your Spot
Cons
Doesn't Have The Best Books
Can Play While Exercising
Apple Books
Apple books have almost as many titles as Audible and it is a fully pay as you go service but it is only available on IOS devices.
Apple Books can be a good option if you are an Iphone user but there are plenty of reasons why Audible is still number 1 by a long way.
Pros
Lots Of Titles
Awesome Selection
Seamless Connection With Iphone
Cons
Audiobooks.com
Audiobooks is another worthy competitor to Audible but it just falls short in a few areas
Pros
Wide Range Of Quality Titles Over 150k
Quality Library And App
Almost Identical Pricing To Audible
Almost The Same Service
Own The Book forever
Cons
VIP books disappear if you end you subscription
No Smart Speaker Support
Returns At Companies Discretion
Audible FAQ
Can I Listen To As Many Books As I Want On Audible?
Yes, you can listen to as many books as you want but you only get 1 or 2 books with your monthly subscription and you need to purchase additional credits at a discounted price to listen to more.
You can also make use of the unlimited returns policy of audible that is unmatched by it's competitors.
Is Audible Free With Prime?
You don't get audible free with Prime but you do get some incentives like free books from a small selection of the library which is not massive but at least it is something.
Can I Listen To Audible Without A Subscription?
No, Audible is a subscription only service that will cost you $14.95 at a minimum. You get unlimited returns for that and discounts on extra credits.
Why Are Audiobooks So Expensive?
The authors put all of their knowledge into each book and they should be compensated as such.
Buying credits from audible is usually cheaper than buy a physical book by a lot so you still make some good savings.
With digital products, the price is determined by supply and demand just like any other product or service.
Do You Lose Books If You Cancel Audible?
No, unlike Audiobooks where you will lose some titles, Audible lets you keep all the books in your library, even if you cancel your subscription.
You won't get the same treatment from Shutterstock!
Do You Get Unlimited Books With Audible?
No, you get one or two books with your subscription and then you need to pay for any extra titles or refund a title to get another one with the same credit.
What Is The Most Expensive Book on Audible?
I hear that Ulysses by James Joyce is the most expensive title at over $120! Expensive indeed! Might give it a try.
Can You Cancel Audible At Any Time?
Yes, you can cancel or pause your membership at any time and you will still get to keep the books you have already purchase. Audible really get the customer support side of things right.
How Many Times Can You Exchange Books On Audible?
Unlimited but as we mentioned if you abuse the system as I did when I was broke trying to get a business off the ground, you will need to contact chat after a while to return your books.
Which Is Better Kindle Or Audible?
I am very much a man that likes to listen to the books on the go, multitasking or working out so I will have to say Audible.
You can seamlessly switch between the E-book and Audio versions too and it will even pick up your spot from one device to the other.
Can I Rejoin Audible After Cancelling?
Yes, you can pause or cancel your membership and come back any time you like. There is no joining fee so you will only have to pay for the month ahead again and get a new credit.
Can I Give My Audible Credits To Someone Else
No, you can't transfer credits but you can gift a book to another audible user which is essentially the same thing.
How do I Get The Most Out Of Audible?
Listen on the go, turn your car into a mobile university, take it on walks, listen at work, take it to gym and simply find great books to keep you engaged and increase your knowledge.
As with anything in life, consistency will determine how much value you get from the service.
Do Audible Credits Expire?
Audible Credits do not expire and you can use a purchased credit anytime into the future.
Can I Get A Refund On Audible?
Yes, there are unlimited returns available on audible and the process is simple. If you make too many returns, you will eventually have to deal with online chat but that is also a pretty straight forward process.
Conclusion
Overall, Audible is an awesome service and definitely the king of the Audiobook platform. There really is no reason not to try out the free 1 month trial and if you like it sign up for the monthly plan at $15 per month.