Audible Vs Chirp Books – What's The Better Option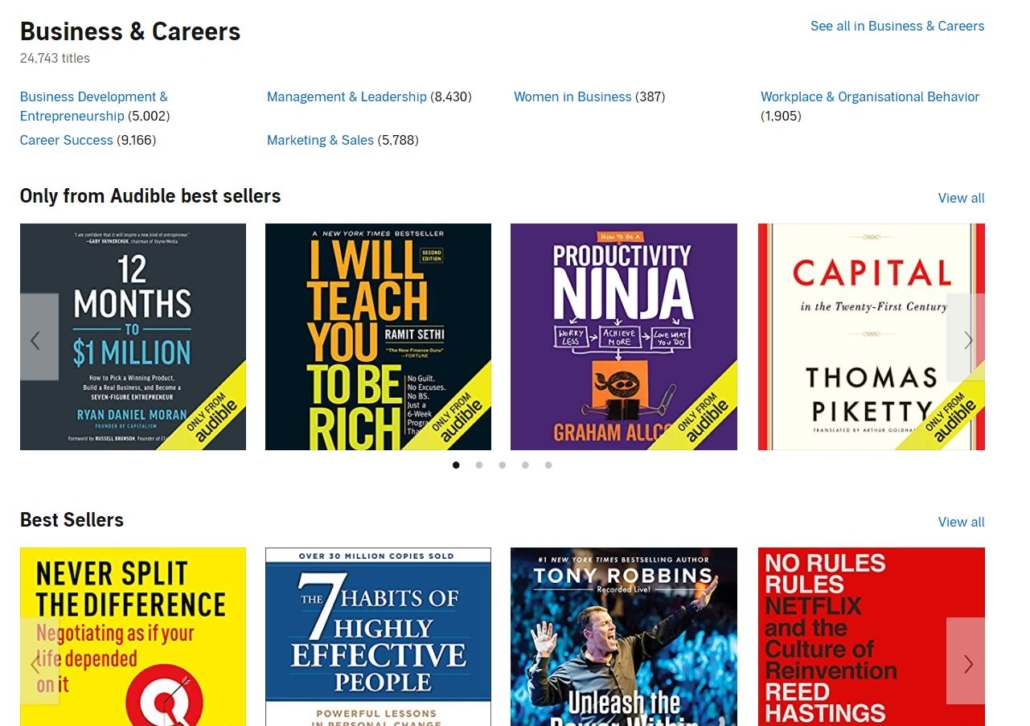 The world of audiobooks has become a major trend over the last number of years and with that has come increased competition for the growing market share.
While most Audiobook providers, such as Audible operate on a subscription model, disruptors like Chirpbooks have started to pop up with a new value proposition. If you sign up for Chirp, there is no monthly fee, you just have to pay when you download a book in a pay as you go model. Audible has the best selection on the market today but Chirp Books is not a million miles off either.
Whether you want to go with Chirp or Audible is ultimately going to come down to personal preference and in this article we are going to take a closer look at the pros and cons of both of these options.
Audible Vs Chirp
| | |
| --- | --- |
| Audible | Chirp |
| Audio Only | Audio Only |
| 400,000+ | 1,000+ |
| Own The Book | Own The Book |
| Credit System | Pay As You Go |
| 64Kbps Top Quality | 32Kbps Good Quality |
| Has Podcasts | Only Audio Books |
| $14.95 P/M | No Monthly Fee – Pay As You Go |
Chirp – The Pros And Cons
Chirp haven't been around that long and probably aren't big enough to have Audible worried quite yet but they do have a interesting value proposition that is sure to capture some of the market and see continue growth as word gets out about the service they offer.
With that being said, let's jump straight into the Pros and Cons of the service.
Pros Of Chirp
No Monthly Subscription
While other services like Audible & Scribd require a monthly payment of around $15 dollars, the Chirp app is absolutely free. You only pay when you want to buy a book and the prices are extremely keen.
A book that will cost 1 credit on Audible, may only cost $1 – $5 on Chirp and although they don't have as many titles as Audible, they still have a generous selection and enough to keep any keen listener interested.
Quality App
The quality of the app that comes with these audiobook services is always going to be of slight concern before you part with your hard earned cash but the Chirp app works extremely well.
You can stream the books on desktop or the app or you can down load them to listen online when the time suits.
Also with the App you get to store the books in your library and you can also speed up the narration to get through it quicker or if the narration is too slow.
You Own The Books
A problem people have with services like Scribd, Kindle Unlimited or Audible escape is that you don't own the books and if you ever decide to cancel your subscription you wont even have a record of the books that you did listen to.
Buy a book on with Chirp or Audible and it is yours to keep.
New Deals Added Every Day
You've gotta love the internet because more and more content keeps getting added giving you more and more choice of Audiobooks to chose from.
You can browse through the site nd find new books each and every day to choose from.
What's more is that Chirp will even email you daily with the new offers that have been added and if something catches you eye you can just buy it for a couple of books.
Price
A book that can cost over $30 on Audible can be available for $3 on Chirp. One example I saw was Mythos by Stephen Fry which is over $30 on Amazon and available for $3 on Chirp.
Money Back Guarantee
If you buy  book on Chirp and don't like it, they will give you a full refund which takes the risk out of using the service.
Cons Of Chirp
The Browsing Feature Isn't As Good
When I first opened Chirp on my desktop and did a few searches, no results returned and I thought it was going to be another one of these offerings without major books but just independent publishers and lesser known works.
When I dug a bit deeper, I saw the autosuggest feature popping up with the titles I was looking for and it made things a little bit better.
No Reviews On The Listings
When I am browsing for new books on Audible, I weigh heavily on the reviews. Amazon are experts at showing you the products you want to buy and their review system is a key part of that.
When you want to buy books on Chirp, I get the feeling that you kind of have to know what you are looking or go on gut instinct on which books will be good.
Choice
While Chirp has plenty of classics, best sellers and titles from big publishers, it doesn't have anywhere near the amount of titles that are available to you on Amazon.
Only Available In The USA
If you live in the USA, you will be able to use Chirp without issue but if you are in Europe, the service is unavailable. Obviously going to be a big set back for our European readers.
Audible – Pros And Cons
I have been with Audible for years, ever since I switched from listening to free audiobooks on Youtube when I ran out of titles.
It differs from Chirp in that you pay a monthly subscription to get 1 or 2 credits per month and 1 credit equals 1 book.
Pros Of Audible
Most Titles And Choice
Audible simply has the most choice out of any other provider in the market with over 400k titles and growing rapidly.
If I see a new release I like, 95 times out of 100 it is going to be available on Audible.
Quality Browsing
The browsing capabilities of Audible, in line with the rest of Amazon are second to none and certainly better than Chirp.
They will display books you may like, with laser like accuracy on the home page and show you titles based on your recently purchased books.
You can also add books to you wish list as you browse and it will also give you suggestions based on those.
8 times out of 10 Amazon will suggest the book I pick right on the homepage, before I even knew it existed sometimes.
Unlimited Refunds
If you don't like the book, you can return it for up to a year with no questions asked.
You can return it on the dashboard without any need to contact support and it is an automatic process.
If Amazon see you taking advantage of it, they will make you contact support through online chat as I discovered after some time.
Discounts, Special Offers And Pay Per Book
While the minimum subscription is 1 book per month, there is also a plan for 2 books per month.
The 1 book program for Audible is $15 and the 2 book subscription is $24.95.
You can also buy 3 additional credits any time you chose for $24 which works out at $8 per book.
1 Credit = 1 book and if a book costs less than a credit, you can just pay for it with you card which is one of the main benefits of Chirp, which doesn't also require a monthly subscription.
Audible also often run special offers on certain books where you can pick up great deals like they are doing books for $4 at the moment.
You Own The Book
Many people are not interested in signing up to a subscription unless they will get to keep and own the book which Audible does allow you to do. You also get to keep a record of all the books you have read, the amount of time you have spent listening, achievement badges and the opportunity to share your stats.
Cons Of Audible
Monthly Subscription Can Be Expensive
At $15 it is quite expensive for 1 book and Chirp can be a more cost effective option. $15 is less than most new books will cost so if you read 1 per month it does represent good value as it has all the best books.
The Case For Having Both
There is a case for having both platforms and using your credit every month with Audible and if you want to buy an extra book that is available on Chirp, you can pick it up for a bargain price.
This will make good sense for people who go through more than 1 book per month.
The Case Against Having Both
Having 2 Apps On Your Phone
If space might be an issue for your phone, you may not want to have 2 apps on their both containing books and taking up much needed space on your phone.
Conclusion
Audible and Chirp both have a solid place in the Market. Audible has all of the latest and greatest new releases for a manageable monthly fee and Chirp offer classics, new releases and best sellers and rock bottom prices.
Whether you use one or both of these excellent will come down to personal preference.