Audible Vs Kindle Unlimited Vs Scribed
People are busy nowadays and the ways in which we are consuming our information have changed in every industry and while books are still popular, technology has meant that people are consuming their books in different ways too.
Audible, Kindle Unlimited And Scribd are three of the most popular ways that consumers are digesting books nowadays and while Audible is an audiobook only service, Kindle Unlimited & Scribd offer both Audiobooks and E-books. Each platform has pros and cons. Audible has the widest choice by far, but only offers Audiobooks while Scribd and Kindle Unlimited have unlimited usage for a monthly fee. You don't actually own the book with Scribd, just gain access to their library. Kindle Unlimited has 1 million titles but lacks the best sellers while Scribd has a better selection of coveted titles.
Each of these platforms is going to suit different people although I do have my own favourite, so let's take a closer look at each platform so you can make a more informed decision about which one to go with.
| | | |
| --- | --- | --- |
| Audible | Scribd | Kindle Unlimited |
| Audio Only | Audio And E-Books | Audio & E-Books |
| 400,000+ | 80,000+ | 1 Million Titles |
| Own The Book | Don't Own The Book | Don't Own The Book |
| Credit System | Unlimited | Unlimited |
| 64Kbps Quality | 32Kbps Quality | 64Kbps Quality |
| Has Podcasts | Has Magazines | Switch From E-book To Audio |
| From $14/95 | $14.95 | $14.95 |
Audible Pros And Cons
I have been a loyal member of Audible for over 4 years, ever since I discovered it really and it would be very hard to make me consider another platform.
I started out listening to free books on Youtube and when I couldn't find the best titles I quickly switched to Audible and have been on the platform ever since. So let's take a look at some of the Pros And Cons.
Pros
Incredible Choice
If you are looking for the biggest choice of best sellers out of these three options, Audible is going to be the winner hands down.
When I see a book I like, (Im A business, biography & Entrepreneurship guy) 95 times out of 100 it is going to be on Audible and I can kind of tell when it won't be ie 'The author is not tech savy'.
Whether it is classics, new releases, best sellers or even somewhat obscure books, up they pop on Audible.
Awesome App
You get the App with Audible to download on your mobile and it is pretty darn good.
Once you complete a purchase on Audible, it pops straight up on your phone, ready to be played.
If the author is reading slowly, you can speed the App up to 1.2x or even 1.5x speed and you can also finish the book quicker, if it is not as good as expected.
Track Your Progress
The App also tracks your stats over time and I must admit,  I got a bit too much enjoyment out of this feature.
I fell into the trap of trying to increase my listening time every month and that meant dedicated listening times every day even when I was too tired to give the required concentration to absorb the knowledge.
The other thing is the badges that you earn by achieving new feats of listening like Night Owl, Listening 7 day in a row among many more.
I think I have achieved them all through the years that I am going to achieve but you never know, I might get the social butterfly badge at some stage.
Own The Book Forever
One major question people ask is what happens to the books you have already bought if you cancel your subscription. With Audible you get to keep the book forever once you have bought it unlike Scribd where you lose your books upon cancelling your subscription.
Free Trial
The free trial is a great incentive to try out Audible and see if you like it enough to add it to your monthly expense list.
I try a lot of free trials and I would say about 70% end up getting cancelled before the trial ends.
I have kept Audible on for years already with no intention of ever cancelling.
You get 30 days full access and the chance to pick any two titles for free.
Unlimited Returns
A feature I admit to abusing in the early days of starting my business when cash was tight.
I would return almost every book to get the next one for free and eventually I wasn't able to do it automatically through the dashboard any more and had to go to online chat to make my returns which I shamelessly continued to do for too long.
I know buy an additional 3 credits for a discounted price which is awesome.
The Credit System
The credit system with Audible is great. Some books cost more than a credit and some cost less. If a book cost less than a credit, you can just pay for it with your card and if it costs more, you can use a credit.
Cons
No Unlimited Downloads
One feature that is not offered by Audible and is offered by the other 2 providers is unlimited consumption.
I personally think Audible should have an all you can eat offering but I am not sure how much it would cost.
Subscription May Not Be Worth It
If you don't read 1 book per month, (Audibles minimum subscription), it may not be worth it to pay the $15 per month. If you read 1 or more books a week, the costs will rise.
Who Is It For?
Audible is for the modern busy multi tasker who only wants to consume books in audio format and wants to have the best choice of audiobooks available on the market.
Someone who want to listen to maybe 1 or 2 audiobooks per month, is willing to return their books consistently or doesn't mind paying for extra credits.
Someone who wants the best quality audio and doesn't want to read E-Books.
Kindle Unlimited
I hadn't even heard about Kindle Unlimited until recently but I decided to take the trial and give it a go.
Kindle Unlimited is basically an offering of as many E-Books as you can consume so this is aimed a lot more at E-book Readers on their Kindles than audio lovers.
Pros
Unlimited Consumption
If you like the content that is on Kindle Unlimited and you read a lot of E-books, this is going to be the perfect offering. You can literally go through as much of the content as possible.
Great For Independent Publishers Content
One of the key benefits of Kindle Unlimited is that independent publishers have their chance to shine on the platform because so many of the best sellers and big publishers are not available on the platform.
Over 1 Million Titles
There is a huge amount of content to get through on Kindle Unlimited, Over 1 million titles to be exact and over 2,000 of these also include audio.
This number is growing exponentially day by day.
Great For Authors
If you write E-Books yourself, Kindle Unlimited is a great place to get them noticed on a popular platform.
Quality Reviews
Ok, I am reaching for Pros to put in slightly with this one as every Amazon software has amazing review features, it is why they are top dogs.
You can ensure that you only listen to amazing content with the quality review system of Kindle Unlimited.
Move From E-Book To Audio Seamlessly
Some of the titles on Kindle Unlimited also have an audio version included and with Whispersync, you can move from your E-book on your kindle to the audio version on your phone seamlessly and it will pick up your last location from one device to the other. The Future Is Here!
Cons
Doesn't Have All The Titles
I won't lie, I cancelled my subscription to Kindle Unlimited because it doesn't the books that I like to read.
I did a few searches for my favourite books and none of them were there so if you are looking for well known titles and best sellers like I am, Kindle Unlimited is not going to be the place for you.
Poor For Audio
I like to multitask when I listen to audiobooks, out walking, on trips or at the gym and with only 2,000 audio titles, it is not enough for me to keep paying the fee.
Who Is It For?
Kindle Unlimited is great for people who like the content that is available on it and what to consume large amounts of that content every month.
It is more targeted towards E-Book readers than Audio junkies although the library of content is growing at an enormous rate day by day.
Scribd Pros & Cons
Scribd offers something in the middle ground between Kindle Unlimited and Audible. It aims to be the Netflix of Audiobooks and has an excellent library of E-books, magazines and even music to boot.
It stocks both Audiobooks and E-books and it also has a large collection of the Best Sellers and new books and it has a great selection but not as much as Audible
Pros
Great Selection
Quickly searching around on Scribd and I found 8/10 of my favourite books that I know are on Audible. The 2 out of ten that aren't available is going to be a problem for me though, If I want it, can't get it and it is available somewhere else, I would switching.
E-Books And Magazines
If you are someone that likes a mix of audio and e-book and you want to read the best titles, Scribd is going to be a great service for you.
They also have a wide selection of Magazines which is a unique feature over the other two platforms and if you can get a lot of value from these, it could be a tipping point for choosing them.
The App Is Great
Sometimes, everything about the offer is great and then there is a let down like it has a sucky app.
Having tried the Scribd and Audible phone apps, I have to say there is very little between them in terms of quality and ease of use which is a good positive for Scribd.
Unlimited Content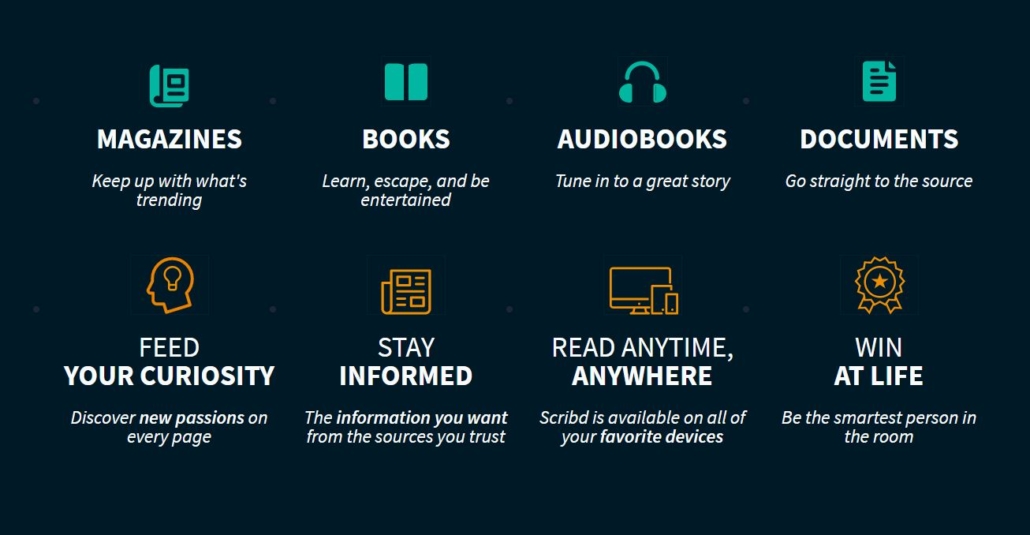 If you are someone that goes through a lot of content like I did when first starting out in business, this is going to be an awesome feature for you.
There is no cap on how much content you can consume on Scribd so if you go through 2 plus books a week, you are going to get excellent value from this.
Cons
Not As Much Content As Audible
As mentioned already, Scribd has an awesome library of new releases and best sellers to chose from and this selection is growing rapidly every day.
That being said, it doesn't have all the titles I tried searching for and this is something that is going to sway me towards Audible every time.
Again, it is worth mentioning that what it lacks in Audiobooks, it makes up for in its offering of E-books instead.
You Don't Own The Books
This is going to be a deciding factor for many but I don't think it is as bad as it first seems.
You don't own the book with Scribd like you do with Audible but thinking about, I can count on one hand the amount of books I have read twice and If I wanted to read it twice it is going to be years apart.
Other people will see it differently and you will also lose the record of the books you have read if quit Scribd.
Scribd is the Netflix of Audio And E-Books but that may actually by a disadvantage compared with Audible, its main competitor.
Who Is It For
This is for someone who wants to consume a lot of content consistently.
Someone who doesn't need to actually own the content they consume.
Someone who likes to consume books in audio and E-book format.
Someone who doesn't mind not have every title that is available through Audible.
Summaries
In summary here is our closing comparisons of each of the platforms
Audible Vs Scribd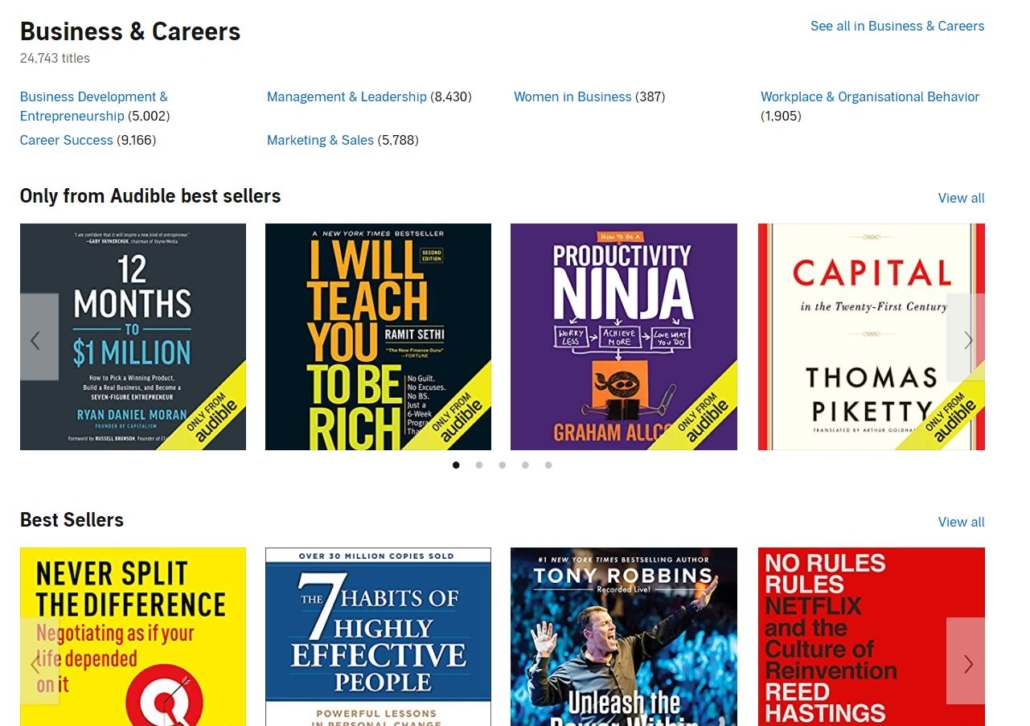 Audible has the best selection but it is only Audiobooks & Podcasts while Scribd has Audio, E-Books, Magazines and Music.
Audible Has A Credit System While Scribd Has Unlimited Consumption
You Own The Book With Audible While You Only Pay For Monthly Access With Scribd
Audible has Slightly Better Audio Quality
Both Cost roughly the same at $15 but the more content you consume, the cheaper Scribd will be
Both Platforms have a quality App.
Audible Vs Kindle Unlimited
Audible has a wide range of best sellers and coveted books while Kindle Unlimited offers lesser known options
Audible operates and credit system while Kindle Unlimited has unlimited consumption
Audible only offers Audiobooks while Kindle Offers E-books and Audiobooks
Kindle Unlimited is aimed at people who want to consume greater amounts of lesser content while Audible is for Audio only consumers.
Kindle Unlimited Vs Scribd
Kindle Unlimited And Scribd are similar in that they offer both Audio and E-Books.
Scribd has a much better collection of best sellers while KU is better for lesser known publishers.
Both Platforms are great for people who consume a lot of content because of the unlimited consumption.
Which Options To Chose
Go with Audible if you like only Audiobooks and want the best titles available. If you listen to a few books a month, don't mind paying for extra credits or are willing to return your books when you are finished.
Go with Kindle Unlimited if you unlimited access to lesser known content and want to consume mainly E-Books on your kindle with some options also available on audio.
Go with Srcibd if you want to consume Audio and E-book content, you get value from their magazine offerings or want to consumer a lot of content per month without being charged for extra credits. Also if you don't mind losing access when you cancel your subscription