7 Of The Best Ezoic Alternatives In 2022

If you are looking at different Ad Networks to monetize your site, I must initially congratulate you. Earning your first few dollars on a blog requires a lot of hard work, patience and persistence to keep going until your traffic builds enough to make some money.
I've been involved in Digital Marketing for over 10 years but I only discovered the real benefits of blogging 2 or so years ago and haven't looked back since.
I used to think that placing Ads on your site would only generate pennies per day but it turns out I was playing the game the wrong way.
To date I have had 3 sites on Ezoic and the RPM or revenue per thousand visits has fluctuated quite a bit. I took my main site out of Ezoic eventually and moved it over to Mediavine where I was able to earn a better RPM and have stuck with them since. Maybe you are in the same boat, looking at Ezoics competitors to try and get a better deal or maybe you haven't reached the threshold to be accepting by Ezoic yet but want to start earning some revenue, we have got you covered too.
What Do Ezoic And It's Competitors Actually Do?
Ezoic are an Ad network that manage the ads that you show on your site and optimize them on a continuous basis to ensure that you are showing your visitors the right Ads to maximize the amount of revenue that you get per visit.
The amount of revenue you will get from any Ad network such as Ezoic, depends on the amount of visitors you get per day, how likely they to click on and engage with your ads as well as how much money they make and how much they are willing to spend with the niche.
To give two sites on either end of the Spectrum, we have pets earning a $15 RPM and our Boxing website earns a measly $2.94 per 1,000 visitors.
Chances are that if you are earning the $2.94 you will want to switch and if you are earning the $15 you will want to stay but even if you are earning the $15 RPM and you reach the threshold to try another Ad Network that you've heared offers better returns like Mediavine or Ad Thrive, it can quickly become time to move on.
Ezoic can be very hit or miss and no matter the reason why you want to switch from Ezoic, there are plenty of Alternatives to chose from so let's dive straight into the list without further adue.
Adsense
More than likely the first name you about when it came to placing Ads on your website and probably the option with the suckiest RPM's on the market.
To be honest, you should be earning at least twice the amount of revenue with Ezoic as you will with Ezoic and you get a lot of extra features with Ezoic as well that should make it a more attractive option for almost anybody.
Adsense used to be a manual affair but there is now an Auto Ad placement feature that should make it a good bit easier to set up and get going.
The Pros Of Adsense
Easy Approval
Adsense is not the best Ad Network for your site by any stretch of the imagination, but they are the easiest to get approved for. You don't need any minimum traffic coming to your site to put Adsense on it and earning your first few cents online can be a gratifying experience.
Nice Dashboard
The Adesnse Dashboard is simple and straight forward, you can see the amount of clicks impressions, clicks and earnings you are getting for each site over the past 7, 14 or 30 days and it will give you a percentage about how much your site has grown as well.
Auto Placement Or Manual
You can trust Adsense to automatically put your Ads in the best spots like the header an sidebar or you can place the ads manually for maximum benefit.
Who Is It For?
Adsense is for anyone who can't get onto Ezoic but wants to make some small earnings for their site.
Payment Terms: Monthly Payment Once Your Hit The Threshold
Mediavine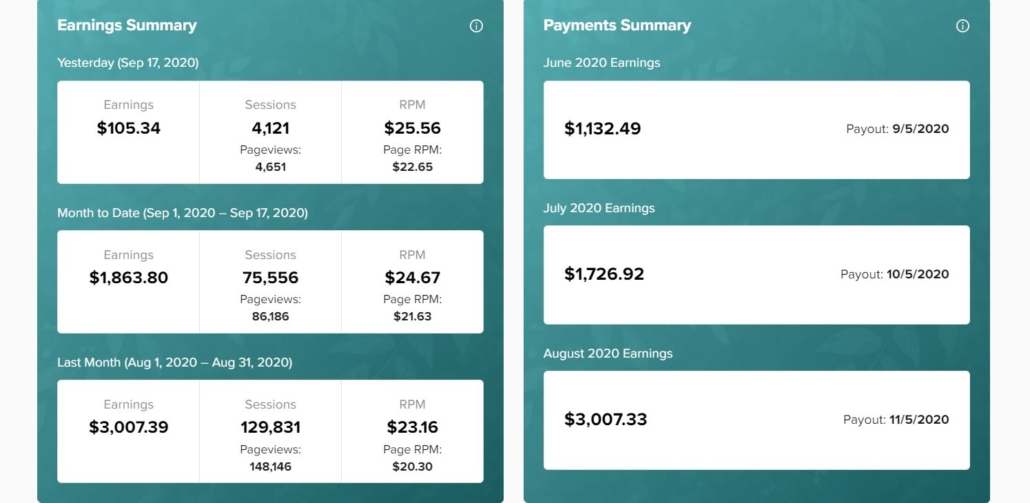 Mediavine have been the best company we have worked with to date when it comes to monetizing your site with ads and the number 1 reason is simple: Revenue per 1,000 visitors.
Our main site was running at $10 – $15 with Ezoic and although it took a while with Mediavine, we are now cruising along at a whopping $23 RPM.
So why is everyone not using Mediavine?
They have a stricter set of criteria for getting accepting than Ezoic and that entry level threshold has recently increased.
Mediavine used to accept sites with 25k pageviews per month but that number has now increased to 50k.
They also used to allow you to get second sites on with less traffic but that offer is not also gone so you are going to need a decent amount of traffic to work with Mediavine.
Pros
Excellent Onboarding Process
We had a smooth onboarding with Ezoic but again, Mediavine took it to the next level. They even got their developers to make changes to our sidebar so that it was ready for the Ads and these little things make a big difference.
They also have a set of standard Ad placements that they recommend you to try, which we did, just make sure to fill out the Ad Quality survey for extra earnings.
Quality Dashboard
One of the advantages Ezoic had over Mediavine for a while was that they offered a better product dashboard but this is something that Mediavine have now rectified with their own new dashboard.
You can see a broad overview of you earnings per day, week and your growth month by month and you can also drill down and see earnings per page, per country and more which gives a good insight as to which content is earning you the most.
You can also see your breakdown by device which is also really handy.
Loyalty Bonus
If you hit 5 million impressions you get an extra 5% of the revenue and every year you are with Mediavine, they offer you an extra percentage point up to 5 years. A big win for anybody and something to aim towards with the impressions.
Videos
Another Key win for Mediavine is that they have their own video player which adds to your earnings very nicely.
You can shoot a quick 60 second video or two and Mediavine will place it directly into your pages and it will start earning.
Community
Mediavine has a large community on Facebook that is very active and you get to see what all the other bloggers are up to which is cool.
You can also interact with them and even collaborate or sell your site if you want to.
Cons
Serious Waiting Time For Approval
With Ezoic and even Adthrive who we will move onto next, you get an answer of whether you were approved or rejected within 24 hours but with Mediavine, it took us around a month to get accepted.
It was during lockdown and I'm sure they inundated with applications but it is something to keep in mind.
High Threshold
50k hits on your site is quite a lot and it will take you a while to hit this milestone but when you do, you will hit quality RPMS with Mediavine. They also have a new offering in the pipeline for smaller sites.
No Affiliate Program
Payment Terms Are 60 Days
Once you start earning, you will need to wait almost 3 months to be paid. You get for the current month, 2 months after the end of the current month which is a long waiting time for many cash strapped bloggers starting out. Ezoic has an affiliate program.
Who Is It For
Mediavine can hold their own against any Ad Network and this is for intermediate to advanced bloggers who want to maximize their revenue.
Payment Terms: Net 60 Days
Adthrive
If you think 50,000 sessions per month is a high threshold for Mediavine, welcome to Adthrive where the threshold is 100,000 so good luck hitting that as a beginner.
The Folklore in the blogging world goes like this, you start out with Adsense then move to Ezoic, onto Mediavine and when you hit 100k, you move onto AdThrive for the highest ever RPMS.
That being said, I hear plenty of people moving to AdThrive and then coming back to Mediavine as their earnings dropped considerably with Ad Thrive.
The truth is that you need to give these networks a bit of time to reach their potential. With me it took Mediavine 3 months to get to a $23 RPM so give Adthrive some time before you go running back to Mediavine.
Pros
Community Affair
Adthrive is a tight knit community and they have a small number of sites compared to other players and bearing this in mind it is very easy to be rejected by them and they wont give a reason why either, but t least they will do it quickly, like they did with us!
All The Features Of Mediavine
AdThrive have almost all of the same features of Mediavine and they are highly focussed on the food industry which attracts so many bloggers.
Video Player
They have a video player where you upload videos and run ads on your site which cuts youtube out which is great.
Big Earnings
AdThrive claim to offer a 15% increase for 98% of websites with fewer ads and a 300% increase over Adsense.
I have seen this claim both backed up and disputed plenty by experienced bloggers so it is up to you,whether to give them a try or not.
Certified Publisher
Adthrive are a Certified Google Publisher and with that in mind, they work with premium partners across the globe to bring you the very business RPMS possible.
Both Ad Thrive and Mediavine offer 75% of the revenue to new advertisers.
Cons
Really Strict Entry Requirements
They turn down a lot of sites that down fit with their vision as they look to stay a close knit community and group. Maybe I could tell you more if they didn't reject our application but we are more than happy on Mediavine anyway.
No Loyalty Bonus
A definite and big win for Mediavine over Ad Thrive.
No Breakdown By Device
Something that gives you additional information in relation to your ad performance.
No Referral Program
Who Is It For?
Adthrive are for sites with a ton of monthly traffic that feel they may not be getting the highest RPMS possible through Ezoic, Mediavine or other competitors.
Payment Terms: Net 45 Days
Monumetric
Monumetric are a direct competitor to Ezoic in that they accept websites from 10,000 sessions per month which is the same as Ezoic.
The big drawback is that they charge for the first tier of their advertising.
Paying out $99 just when are getting started is a real deterrent, how do you know how long it is going to take to make that back?
Pros
Ads Less Intrusive Than Ezoic
I have been digging around for info on these two Ad Platforms and one of the biggest factors that jumps out is that the Ads are more like Mediavine than Ezoic in that they are less intrusive and load faster so that your site performs better.
Monumetric Has A Tiered Approach
It's clear from looking at the various offerings from Monumetric that they are geared toward the bigger sites. Once you reach a substantial size, you no longer need to pay a set up fee and their top tier is for sites over 10m sessions per month which is massive.
It looks like they want to work with a smaller number of large sites.
They Offer Video
One key offering available on Monumetric but excluded from Ezoic is that they have their own video player.
You just record a short video, upload it to your dashboard and they will play Ads on the video to earn you additional income and Ad impressions.
They Are Experienced
They have been around since 2012, work with all of the major publishers and work with you to get your ads set up and maintained to maximise revenue. The higher the tier you move into, the higher the commitment Monumetric will give to your account.
Free After 80k
If your site is already over 80k sessions per month, you won't have to pay the $99 set up fee which at first seems like a bad business move but it actually keeps crap sites and uncommitted people away. Thing is though, 80k is a lot of sessions and you can be happily integrated with Mediavine at this point already, with no reason to move.
Cons
Similar RPMs to Ezoic
From looking around the Income School community, I can see that the people who have tried Ezoic and Monumetric are saying that the RPMs are similar and some are saying the earnings with Monumetric have even been lower.
The Sign Up Fee
You can't get away from it as a con for new advertisers, especially when you want to make your first income, the last thing you want to do is give away more than you are possible going to make in the first month.
Who Is Monumetric For?
This is for someone who has had a bad experience with Ezoic, maybe site speed issues
Wants to put video ads on their site
Doesn't mind paying the $99 to set up.
Someone who has over 80k Sessions Per Month
Payment Terms: Net 60 Days
Media.Net
Media.net are another competitor of Ezoic but the word on the street is that the RPM's with this Ad Network are terrible and you would be better off going with a different platform.
That being said, there are a few pros of the platform that might make it worthwhile for one or two of our readers.
Pros
No Minimum Traffic Threshold
If you simply hate Adsense and want an alternative, you can try Media.net. While Google is going to be a huge part of revenue for most other Ad Networks, this one operates off the Bing and Yahoo Ad networks which can offer a good alternative.
Offer Display, Native And Programmatic Ads
They offer a wide array of different ads and display your data on an impressive dashboard.
Good Support
You get a dedicated account manager who can help you to achieve the highest RPM's possible.
Cons
The RPM's are lower than Ezoic
The RPM's from Ezoic are much higher than what you get with Media.net and Ezoic is more than likely a better option for most websites.
From what I have heard, Media.net are not a great provider.
Who is It For:
Someone who wants to try out an alternative to Adsense and doesn't have 10k sessions per month yet.
Payment Terms: Net 30 Days
Monetizemore
Monetize more is another Ad Network that have been around the block since 2010 and are catered toward larger publishers with their High entry requirements and tiered approach to the package you will get once you sign up.
Monetize more will only accept you once you have over 500k pageviews per month and there is a set up fee of $99.
Interestingly the professional package is available to anyone who gets over 5 million page views or $5,000 in Ad revenue. One of our top sites earns $5k in Ad Revenue with far leass traffic than 5 million pageviews
Pros
Use the Google Adx but not exclusive
Video Ads
Native Ads
For The Professional And Premium models, you get a full time success manager and complete control of your advertising.
Have Spanish & Portuguese Agents offering worldwide support.
Have a ton of different offerings
Cons
Only take advertisers that are large in size.
Reporting is not fully automated
Hard to get accepted for
Don't release their payment terms
Who Is It For
This offering is for large and premium publishers looking to find one manageable solution or hoping to increase their RPMS. A small increase in RPM at that size can have a large impact on total revenue.
Payment Terms: Net 30 Days
Ad Push Up
Last but not least is AdPushup, a company based in Delhi that offer a bunch of different services in the hopes of getting you the best returns from your websites Ads.
The minimum threshold to be accepted bu Adpushup is $1,000 in revenue which again is on the larger side of the beginner Ad platforms so you will need to be around a while before you can get accepted.
Pros
Easy Set Up With Code And Technicians
They Pay Advertisers 80%
Most Users Get An Increase In Revenue From 30 – 40%
Work With Various Publishers
No Set Up Fee
Great Dashboard And Very Transparent
Loads Of Products Including A/B Testing
Header Bidding
Cons
Hard To Fault
Only for Bigger Advertisers
Who Is It For?
This is a company for anyone who wants to keep full control of their site but wants to shop around and see if they can get a great deal on their RPM's from a quality provider
Payment Terms: Net 45 Days
Conclusion
The amount of revenue you can generate or the RPM you can achieve in different niches is going to vary widely and it's also going to vary widely across the Ad Network that you use.
If you have 50,000 sessions per month, I would whole heartedly recommend Mediavine and they have no Affiliate Program so you know I mean it.
If you have 10,000 plus I would recommend sticking with Ezoic unless there are serious issues or paying the $99 and giving Monumetric a try.
Adthrive are also a decent option to consider if you have bit more traffic and then we get into the larger publishers.
Some people will forego Ads until they are ready for Mediavine so the final decision about to do is going to come down to your personal preferences.