Best Stock Photo Websites For Bloggers – How Bloggers Get Such Good Images
When I started out in blogging I use to scrape Google for all of my images and but that is not a strategy that I would recommend or advise you to copy, even when starting out as you will inevitably start getting emails about copyright and in the worst case, you might get sued.
The truth is that there are a ton of places where you can get quality stock images which are royalty free, there are high end sites where you can pay a monthly subscription if the quality of the images on your blog needs to be really high or you can even take quality images yourself when the opportunity arises.
The fact of the matter is that more and more free stock image sites are popping up and the ones that currently exist are getting loaded with more and more quality images as contributors look to make a name for themselves.
| | | |
| --- | --- | --- |
| | Provider | Cost |
| 1. | Pixabay | Free |
| 2. | Adobe Stock | Paid |
| 3. | Pexels | Free |
| 4. | Unsplash | Free |
| 5. | Envato | Free & Paid |
| 6. | Stocksnap.io | Free |
| 7. | Reshot | Free |
| 8. | Deposit Photos | Paid |
| 9. | Burst By Shopify | Free |
| 10. | Canva | Free & Paid |
How Are The Free Compared To Paid?
Stock Images that come for free generally fall under the creative commons license which allows you to use, modify, edit and put them on your blog, even when it is for commercial reasons.
Some images that are listed on Free Stock sites may require some attribution but the best thing for you to do would be to do your own research on which are completely free and which need the author to be given as a reference.
If the readers of your blog or more interested in the quality of the content, you wont have to worry too much about the quality of the images and stock photos should be perfect to use.
The Need For Paid Images
Sometimes when you are looking for a specific image, the free stock collections are just not going to fill the need and you may want to sign up for a premium stock photo subscription or simply buy the license to a single photo.
For those high end blog moments we have also included some of our favourite Paid Stock Photo Sites.
In A Photo Centric Niche, You Need To Stand Out
If you are in an industry where the quality of the pictures is going to have a big impact like fashion or food, then the quality of the images is going to make a huge difference in how appealing your blog posts look and how much of an impact you can make with them.
The same would hold true for things like web design, interior design or home improvement. These are also topics that can do quite well with pinterest.
What Determines Which Sites Make Our List:
If you want to make onto the Insider Growth, then obviously we are going to be looking for depth of quality images across various searches, ease of use, usefulness and for the paid sites, obviously the choice and value of the subscription will be the key drivers.
Words We Will Be Evaluating With:
Entrepreneur
Travel
Business
Let's take a look at the top Stock Image site for bloggers right now:
1. Pixabay (Best Free)
Pixabay are a German based company founded by a Computer Scientist who always had his eye on developing new technologies and strategies. Hans Braxmeier has gone onto to create a ton of web projects since.
Pixabay is more than simply free stock images, they also offer Videos, Vectors, Illustrations and Music that all fall under the creative commons license to be used for free by anybody for any purpose, even commercial.
Cool Features:
1 cool feature is that if you sign up and upload 10 images, your Pixabay experience will become Ad free which promotes an ever expanding community.
Pixabay Is now host to over 1.9 million images
Efficient browsing with Editors choice, popular images and popular videos and you can also filter results by size and orientation.
Results For Entrepreneur (693):
Results For Travel (94k):
Results For Business (24k):
2. Adobe Stock (Best Paid)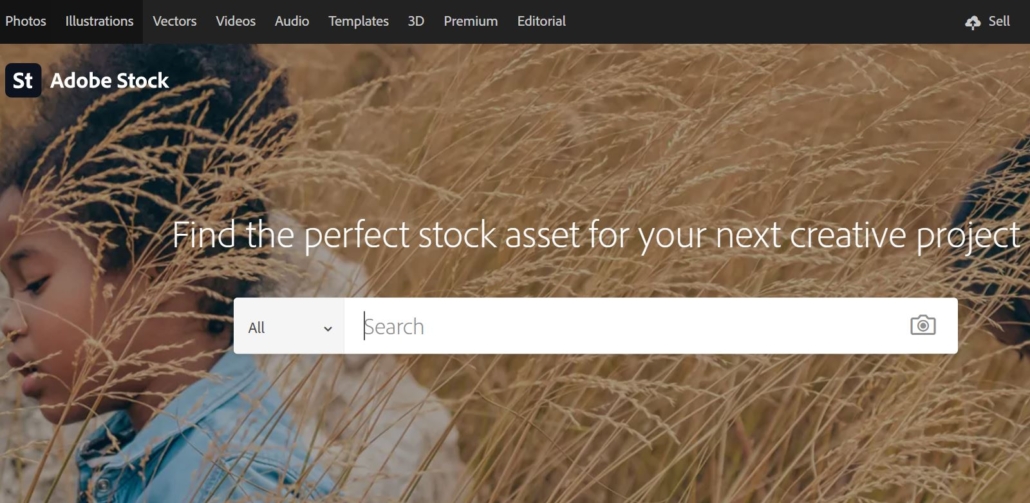 I've been a loyal customer of Adobe Stock for years and taking a look at how their stock has performed in that time, an investment would have been done an incredible return.
If you think 1.9 results on Pixabay is impressive, Adobe Stock has over 220 million of the highest quality images you will find on the web.
It's easy to get roped in with Adobe stock as they have a free 30 day trial where you get 10 free images and then it costs $30 per month for additional 10 every month which is expensive but if you need quality images regularly, it is competitive with other options in the market.
The main reason I paid for Adobe Stock was because I was working in web design where we need the best images and Adobe was the best choice available.
Cool Features
Your credits build up over time, they don't expire at the end of the month like Shutterstock.
Discounts for paying in advance.
Yearly contract which can be unattractive for some.
They will lower the cost if you threaten to leave.
Not just images but also Vectors, Illustrations, Videos, Templates And 3d Objects.
Premium Section which will cost more than 1 credit
Images only approved if they meet the highest standards through review
Find Similar Items to one you see in search on a variety of metrics
Sub Categories appear for related searches
Cons
No Pay As You Go Option
Expensive
Yearly Contract
3. Pexels (Free)
Pexels is another free image, video, vector and illustration provider that allows completely free use of their images under their own license with not attribution required.
The company was founder in 2014 and has grown from strength to strength since offering a ton of quality images and videos on their easy to search database.
Cool Features
They Implicitly state you don't need a license or attribution and the only thing you cant do is sell the images or portray an identifiable person in a bad light.
Cool Search features like Collections, Popular, Discover and Trending topics.
Cool Related Searches Feature
Upload your own images for an Ad Free experience
Partnerships available for companies
Cons
Less Choice Than Other Free Platforms
Results For Entrepreneur (800)

Results For Travel (10K)

Results For Blogger (200)

4. UnSplash (Free)
Unsplash is another serious competitor when it comes to high quality and free stock images, videos and more to spruce up any blog post and they have an awesome choice available with over 2 million photos to chose from and growing steadily.
Again, Unsplash makes it very clear that the photos are absolutely free to use and edit, even for commercial use under their license.
Cool Features
Over 2 Million Assets To Choose
Awesome Browsing Features
Anyone Can Become A Contributor
Community Of Over 200,000 Photographers
Cons
Results For Entrepreneur (700)

Results For Travel (40K)

Results For Blogger (1.2k)

5. Envato Elements (Free & Paid)
Envato market is the place I used to go to get premium wordpress themes to build websites before I got into full time blogging.
This is a cool free service with video, illustration, and stock photos where you can use 1 simple license for any image and the service operates with a paid and free offering.
Cool Features
If you sign up for free you can license 12 assets and if you want to use more than that, there is a monthly fee of $13 per month.
Awesome browsing and sub categories for finding the best images possible.
Video Templates as well as Stock Video
Sound Effects & Graphic Templates
Fonts Available
Quality Between Free And Paid Offerings
Have Team up twenty20.com to offering unlimited premium images for $16.95 per month.
Results For Entrepreneur

Results For Travel

Results For Blogger

6. Stocksnap.io
Stocksnap are another company that were founded due to the frustration they felt when trying to find quality free images for their Blog so they decided to take matters into their own hands.
All images are available to use without attribution and the quality of the images is right up their with the best free sites
Cool Features:
Awesome and Effective Browsing
Free Under Creative Commons
100's Of Images added daily
Cons
Intrusive
Not As Much Selection As Other Free Sites
Results For Entrepreneur

Results For Travel
 
7. Reshot (Free)
Reshot are a company who were founded once again due to the lack of quality photos they found to be available online and they set up their own attempt.
Cool Features
Unique Photos that you won't find on other free platforms
Easy browsing, searching and categorization of images
Completely free to use without attribution
New photos added daily
Like To Keep It Simple
Cons
Results Entrepreneur

Results Travel

#8 DepositPhotos (Paid)
Deposit Photos is another of the key competitors in the paid stock photo industry.
It's a simple site that offers a huge range of stock images vectors and videos to use under license.
They also offer a ton of flexible options for monthly or on demand and the pricing is quite good.
Cool Features
You get 30 images for $29 per month
You can buy 10 images on demand for $45
Image credits roll over into the next month unlike shutterstock
Cons
A Bit Expensive Still
Not As Good Quality As Adobe Stock
If your site needs premium images, Deposit photos is well worth a look.
#9 Burst By Shopify (Free)
If you run an E-Commerce store or have a blog attached to an E-Commerce store then you will understand the importance of showing off your brand with quality images.
Shopify have spotted a gap in the market for their customers and attempted to fill it with Burst for free stock images to be used by its customer base and the result is not too bad!
Cool Features
Cool And Unique Images
Broken Down Into Section And Categories
Cool Related Searches Section
No Attribution Needed
Geared Towards E-Commerce
Become A Contributor
Cons
Wont Find that much choice for generic searches
Not As Much Choice As Others
#10 Canva Free And Paid
When it comes to creating and editing assets for your online brand canva is the go to place to get the job done.
You can sign up to the paid version and get plenty of editable images free along with the software to edit them and you can always buy premium templates and add ones from $1 for those time when a stock image just wont get the job done and you need to do some editing to make it fit the bill 100%.
Cool Features
Import Stock Images And Edit Them
Chose From Templates
Create The Exact Size You Need
Create Custom Assets Unique To Your Blog
Cons
Not As Much Choice
More Editing Software Than Stock Images
Conclusion
You should have plenty of options to chose from in todays list to make your blog look like a premium offering and remember than free images are going to do the trick for a lot of websites but if you are in a category where paid images are going to set you above the competition, you may be better off going with a paid stock photo subscription but as always to choice is going to be yours and you should make it to maximum the benefits to your blog and get the maximum return on investment.