Coolbox Net Worth 2021 – What Happened After Shark Tank
Chris Stoikos and Jason Neubauer took Coolbox, their smart toolbox for the new millennium, to Shark Tank asking for a cool $500 000 in exchange for 10% equity.
The pitch wasn't easy as things got hotter in the Tank, but after serious negotiations, Lori Greiner finally made an offer of a $500 000 line of credit at 5% for 15% equity, contingent on a deal with Lowes.
Stoikos and Neubauer accepted the offer, but the road since has been a difficult one and the business is currently worth around $5 million.
| | |
| --- | --- |
| Name: | Coolbox |
| Net Worth (2021): | $5 million |
| Pitch: | Smart toolbox |
| Entrepreneur: | Chris Stoikos and Jason Neubauer |
| Asked for: | $500,000 for 10% |
| Deal: | $500,000 line of credit at 5% for 15% equity |
| Shark: | Lori Greiner |
What Is Coolbox?
If tools have changed in the 21st century, so should the toolbox. Enter Coolbox.
Coolbox combines a classic toolbox with technological enhancements so that today's projects are workable and enjoyable.
Take a toolbox, add a whiteboard, magnetic lid, iPod and iPad stands, two USB ports, speakers, detachable LED lamp, a clock, wireless Bluetooth, rechargeable battery, mains lead…and a bottle opener, and you have a Coolbox.
Bottle opener? Oh, yes, that's right, the Coolbox incorporates a traditional cooler box feature too!
Who Are Chris Stoikos And Jason Neubauer?
Chris Stoikos and Jason Neubauer developed Coolbox as a reinvention of a classic item that had not changed much since its invention.
They were tired of carrying a light, extension cord, speakers, and toolbox to their contracting projects. Their aim in designing a toolbox upgrade was to make it easier and far more efficient for contractors and DIY-ers.
And don't forget the fun aspect of the cooler and bottle opener!
Stoikos and Neubauer believed that you don't have to only be a DIY-er or a contractor to use a Coolbox. Any activity that requires multiple tools, parts, and pieces could utilize the Coolbox: makeup artists, campers, and sports teams could all find this "Swiss Army Knife" of both toolboxes and coolers useful.
Stoikos is an interesting brand of hipster entrepreneur and the Dollar Beard Club is another of his viral businesses.
Neubauer discussed his story and his reactions to being on Shark Tank here.
What Happened During The Pitch?
Chris Stoikos and Jason Neubauer took their smart toolbox, Coolbox, to Shark Tank asking for a cool $500 000 in exchange for 10% equity.
After demonstrating the versality of the Coolbox, they said that they were struggling to raise enough capital to make the Coolbox big business. The partners revealed that they had used crowdfunding to build their expensive prototype.
Stoikos and Neubauer believed the business to be worth $5 million. They based this valuation on the fact that their Indiegogo startup campaign had made $400 000 in pre-sales.
The Sharks were all wary: the investment was risky; the valuation was high. Robert Herjavec was concerned that projected numbers based on pre-sales did not mean retail success.
The entrepreneurs told the Sharks they had had interest shown from companies such as Black and Decker.
Kevin O'Leary was worried about the project being capital-intensive.
Mark Cuban was concerned that the provisional patent would not stop larger, more established companies from making their own versions of Coolbox at a fraction of the retail price, thus putting Coolbox out of business.
The Investment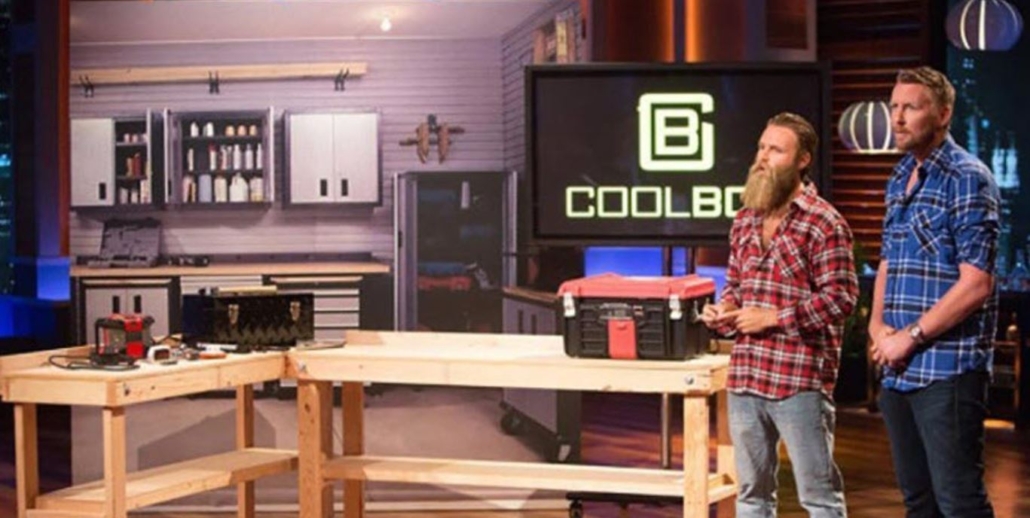 Daymond John was the first Shark to bite. He offered $500,000 for 25% equity. He withdrew his offer when Lori Greiner stepped up.
Greiner had business relationships with Coolbox's target demographic – Home Depot, Lowe's, and True Value. She liked Coolbox and offered $500 000 for 30%, contingent on Lowe's stocking the product in their stores.
Some further negotiating took place and Greiner revised her offer to $500,000 as a line of credit at 5% interest and 15% equity.
The deal was made.
What Happened After Shark Tank
Greiner's deal was conditional on Lowe's stocking Coolbox. This did not materialize, so the Shark Tank deal fell through.
This did not deter Stoikos and Neubauer. They developed strategic plans to expand the business, offer multiple versions of the Coolbox, and release a smaller sized smart box.
Conclusion
After the Greiner deal fell through and just after the Shark Tank episode aired, former Shark Tank investor, Kevin Harrington, entered into a worldwide marketing agreement with Coolbox.
It seems from some reviews that the original item took years to ship and when it finally reached its purchasers, it was a disappointment. Many of the once cool aspects were rather lukewarm years later. The rapid advancement of technology makes it essential that upgrades are designed.
However, the Coolbox website currently shows an active business with a revamped range of products.