Dubrovnik Vs Split Vs Zagreb – Is Croatia Worth Visiting
There is no doubt that Croatia is one of the most beautiful eastern European and Balkan states that you can visit with it's scenic beauty, jet blue seas, year round good weather and a major city all adding to it's pull for travelers from all around the world.
Croatia has a mountainous landscape that separates the country from Bosnia to the East and Montenegro to the South.

To the west is the beautiful Adriatic sea which separates Croatia from Italy.

To the countries north lie Hungary and Slovenia.

In the north east, the country also borders Serbia.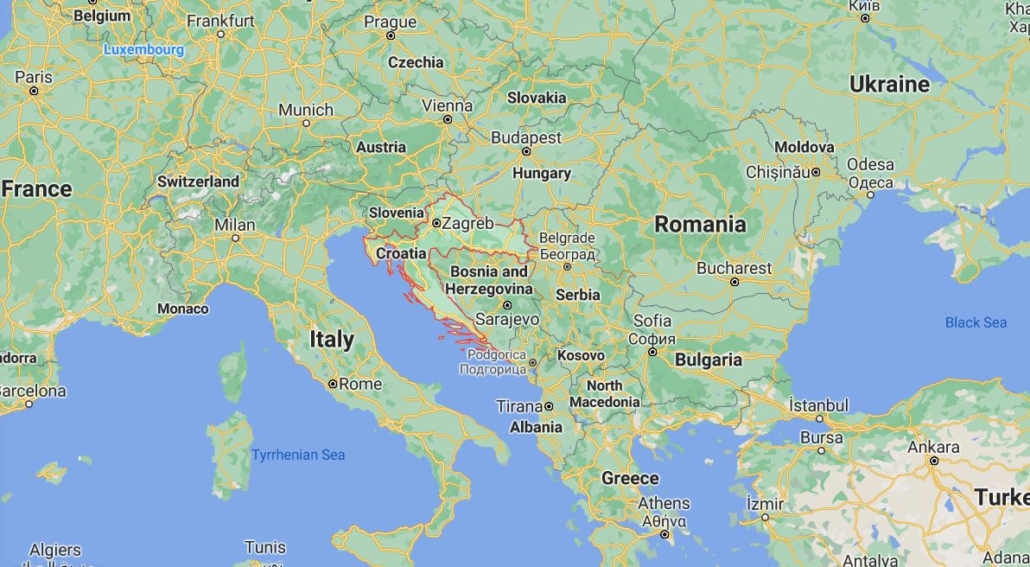 Travelling during current events has been difficult but Croatia is one of those countries that have made travel possible, even during a pandemic and I had the pleasure in 2020 of spending time in Dubrovnik, Split and Zagreb which has given me an overall feel of the country, its culture and it's people.
Dubrovnik
Dubrovnik is a small town, famous all around the world for it's stunning beauty and incredible walled city.
It is also one of the key spots where Game Of Thrones was filmed.
First Impressions Of Dubrovnik
Having arrived at the airport, it was a quick mini bus ride from the airport to the Airbnb I was staying at.
The first thing to notice was the weather. It was 20 degrees in October and really perfect conditions for shorts and t-shirts.
As the mini bus winded down the hilly roads towards the town center, the views of the Adriatic ocean were incredible and then the views of the walled city were simply amazing.
A Couple Of Days In Dubrovnik
Dubrovnik is in the deep south of Croatia, very close to Montenegro. I was staying there for 2 days and had to make the most of my stay, which I did.
Walled City
Staying in a well priced Airbnb on the main street in Dubrovnik, the views were amazing and it was clear that exploration was the only way to spend the trip.
I took a walk into the famous walled town center and it was simply amazing. The walls were constructed in the 12th century AD and were never breached by an opposing army in their history.
Inside the walls is like walking back in time, hundreds of years, so little has changed.
The center is a hive of restaurants and nightlife along with backstreets where businesses and residences are concealed.
Walking Dubrovnik
The second day was set aside for walking through the park in Dubrovnik and along it's coast which was also an amazing experience, the pictures of that walk are now used as the main image on the homepage of this website.
The park was quiet and I started the ascent, I wasn't sure what to expect, until the trees parted and I was left with the most stunning views of the Adriatic ocean that you can imagine.
As I continued to walk the outline of Dubrovnik, the views continued for miles and miles and I knew for sure why Dubrovnik is world famous as a tourist destination.
Dubrovnik Cost Of Living
One thing to mention is that Dubrovnik is the most expensive place you can find in Croatia.
It's stunning beauty allows it to charge premium prices and still remain flooded with visitors.
A burger, chips and drink meal will cost about 100 Kuna or $16 or €14.
Food prices are as high as big western European cities but the accommodation was relatively inexpensive.
Is Dubrovnik Worth Visiting?
The beauty of the landscape alone makes Dubrovnik a must see destination.
If you are planning on visiting Croatia and are on the fence about Visiting Dubrovnik, I would recommend to definitely try it out for at least a couple of days.
Heading North to Split
Waking up the following morning, I headed for the bus station to catch a ride up north towards the sunny town/city of Split which is equally steeped in a rich history.
The bus following more winding, mountainous roads as we slowly made our way towards to proud town of Split, a city also steeped in history itself.
First Impressions Of Split, Croatia
Looking on the map, Split seemed a lot bigger than Dubrovnik and I took an Airbnb with sea views for a very reasonable price, close to the old town.
First thing to notice were that there was more to do, plenty of gyms, restaurants, pubs, walks, shops of all kinds and even nightlife if you are interested and the people of Split are super friendly and accommodating. They all speak almost perfect English.
The sun was still shining brightly and the weather was perfect at 20 degrees.
The Waterfront
The waterfront in Split has lines of restaurants and the views of the sea and the port from here make for an amazing atmosphere.
You can break off from the marina into the town center, which is also surrounded by ancient walls steeped in history.
The Walled Palace Of Diocletian, Split Croatia
When Croatia was part of the Roman Empire, the emperor Diocletian was born in Split and made his palace there in the 4th Century AD.
The used solid stone and for that reason the walls still stand today and house the old town of Split.
Walking through the narrow streets is again like walking into a time machine and dialing it back nearly 2,000 years, while it still maintains a lot of modern features like shops, bars, cafes and restaurants.
Fitness Center In Gripe
To the other side of my stay was the wide open space of Gripe, which included restaurants, bars, supermarkets, shops and more.
Climbing the steps brings you to another level with a world class gym facility and boxing/taekwondo/muay thai gyms.
I got into a very nice routine of weights, walking and boxing during my stay in Split and the people were very accommodating.
The gym was about 200 Kunas or $40/€30 for the month with no contract which is pretty decent, considering.
Walking The Marjan National Park
Split also has a massive park which is quite hilly but reveals breath taking views to the Adriatic ocean, city and surounding areas.
Walking a full circuit of park is one of the best leisure walks I have ever taken, the hill is great for fitness and the views are a 10/10 making the walking a permanent fixture of my week 2 or 3 times at least.
Pride In The City And The Football Team
At 12am on one of my first nights in Split, I thought we were being bombed until I looked out the window and saw fireworks going off every where.
It was the 70th anniversary or Torcida, a loyal group of Hajduk Split supporters who help the community in any way they can.
I was less surprised the next night when the parade of thousands of supporters walked past the window in an almost surreal experience.

Murals and paintings of the football club adorn almost every wall in the town and the stadium is toward the North side of Split which can be seen while walking in Marjan Park.
Other murals depict war heroes from Croatia's colored past, they were even under communist rule up to 30 years ago.
Ferries To Other Islands
There are tons of islands and beautiful tourist attractions around Split with Ferries leaving from the port at all times of the days. Island hopping and going on tourist trips is a great way to spend your time in Split.
Cost Of Living In Split
Split is less expensive than Dubrovnik but more expensive than you would expect in other Easter European countries.
The fast food through the Wolt app was reasonably priced and you can go for a cheaper option in the fast food kiosks located all around Split. The quality of the food was excellent to top it off.
The rent prices were also very competitive, you can rent a nice apartment for around 4,000 Kunas or $700 or €600 give or take, depending on your needs.
Is Split Worth Visiting?
Split is 100% worth a visit.

It has sun and good weather during the winter.

There is tons to do from beaches to sports to walks to cafes to nightlife.

The people are friendly and accommodating.

It is a place where you can spend more than just a couple of days.
Split Vs Dubrovnik
Dubrovnik is a tourist town, it is geared toward tourists in many ways and being a lot smaller there is less to do. Dubrovnik is breathtakingly beautiful and is a must visit but only for a couple of days.
Split is similar but a lot larger and almost as beautiful but not quite. With an extensive range of activities, Split is equally worth a visit but you can stay for longer as there is more to do or if you want to work as a digital nomad.
North Again To The Capital – Zagreb
Deciding between Split for another month and heading north to Zagreb was a 50/50 but eventually I decided to head north to Zagreb.
First Impressions Of Zagreb
Zagreb is a major European city, albeit one of the smaller ones. On arrival the first thing I noticed was that the good weather was gone and it was freezing.
The city is quite small but it has everything you would expect of a city and while the rent prices were higher than Dubrovnik and Split, the food was a lot more reasonably priced.
Gothic Buildings
The first thing to notice walking around Zagreb was the gothic style churches and buildings, similar to what you might see in Budapest or Prague.
A quick walk around the city and you can quickly get a feel for the place as whole.
The people are nice and the prices and quite good.
Gyms
Staying in the center, there were gyms all around the Airbnb and they were reasonable priced and with all the modern equipment you might expect.
Fast Food
The options for fast food in Zagreb through the Wolt app were unlimited and the price were very competitive. Multiple orders per day was a regular occurrence.
Night Life
The night life in Zagreb is world famous but during a pandemic is was more low key. There are outdoor spots with plenty of heaters in the city to keep you warm while having food or having a few well priced drinks.
Park
Zagreb too has a large park area for walking but it is a bit outside the centre and one thing I missed from Split was being able to take long walks during the day and it was also very cold which kept me inside and working most of the time.
Cost Of Living Zagreb
The rent was the most expensive of the three places but the food and general cost of living was a lot less.
Is Zagreb Worth Visiting?
Being a capital city, Zagreb is going to coming into comparisons with cities like Budapest, Prague and even nearby Vienna and Belgrade.
I personally would find a trip to Budapest a lot more appealing than Zagreb and out of the three places in Croatia, I would put Zagreb third on the list.
I had a great time in Zagreb but compared to other East European cities, I think there is better to choose from.
Zagreb Vs Dubrovnik
Zagreb And Dubrovnik are chalk and cheese. One is a major city and the other is a mega popular tourist and fishing village.
Dubrovnik is expensive but enjoys sun all year round and is great for relaxing.
If you like the city lifestyle, Zagreb is going to be for you.
Zagreb vs Split
Split sits in between the two other spots. It has all the trappings of a modern city with two large malls and it also has the peaceful countryside vibes with Marjan park and it's coastal beauty.
If given a choice to spend a month in either place, it would have to be Split, hands down.
Is Croatia Worth Visiting?
If you can visit these three places, go island hopping and also visit Hadar, Croatia is absolutely worth a visit as is the rest of Eastern Europe with its rich culture and history.
The Croatian people are some of the nicest in the world and I wouldn't think twice about visiting.
Are Split, Zagreb And Dubrovnik Safe?
Zagreb being a major city, you would need to pay the same respect to your belongings as any other city.
Dubrovnik and Split are mega safe. The crime rates in both places are negligible and there is a unity between the people that is immediately apparent.
The Airbnb in Dubrovnik informed me that I didn't have to lock the door upon leaving and there were bikes all around the property left unlocked. Dubrovnik is probably one of the safest places in the world.
Is There Sharks In Croatia?
Yes, unfortunately there are sharks in the Adriatic sea and many species of them too.
The Great White is probably the most dangerous but there have only been 11 deaths in 150 years from Shark attacks at the waters are deemed very safe for swimming.
I didn't know it at the time, but Croatia is also home to Black Widows, Viper Snakes, Ticks And Brown Bears in Split/Dubrovnik more so than Zagreb.
Conclusion
Split was my favorite spot in Croatia without question. More to do than in Dubrovnik and it has everything you need from tours, beaches, walks in the park, malls, shopping centers, restaurants and fitness facilities.
Having traveled all around Europe, Split is in my top 3 places to visit so far behind Budapest and Prague.
If you get the chance to visit Croatia, it is not one to turn and can be a quite similar experience to coastal Italy.
Dubrovnik is great but only for a week or two max and Zagreb is great spot for digital nomads to live and work although it is the only place that gets very cold in the winter!