Dude Wipes Net Worth 2021 – What Happened After Shark Tank?
The dudes of Dude Wipes saw a hole in the market for wet wipes marketed towards men.
Dude Wipes appeared on the 4th episode of the 7tth season of Shark Tank. The idea was a line of wet wipes marketed towards men. The idea was brought to the tank by a trio of best friends from the Chicago area.
The idea was hatched when the friends were in college and realized that there was no line of sanitary wipes that were being marketed towards men, and for the specific needs of men.
Dude Wipes was one of those magical pitches that had the sharks chomping at one another to offer a deal.
So how did it go for Dude Wipes? Are they still in business today?
How have they developed a net worth of over $25 million today.
Read on to find out more in the following article.
Quick Facts
| | |
| --- | --- |
| Company Name | Dude Wipes |
| Company Net Worth | $25 million (estimated) |
| Pitch | A line of sanitary wet wipes that are designed and marketed specifically for men |
| Entrepreneurs | Ryan Meegan, Sean Riley, Brain Wilkins and Jeff Klimkowski |
| Asked For | $300,000 for 10% equity |
| Final Deal | $300,000 for 25% equity |
| Sharks | Mark Cuban |
What are Dude Wipes?
Since appearing on Shark Tank, Dude Wipes has expanded to much more than just flushable sanitary wipes.
Originally, the concept behind Dude Wipes was to provide men with a larger, sanitary wipe that they could use for all their "dude parts." The wipes were infused with aloe and vitamin E so they would be gentle to use even on sensitive body parts.
They were also biodegradable so you wouldn't have to worry about flushing them down the toilet. The wipes were also designed to be more durable than regular baby wipes.
Who are the Entrepreneurs?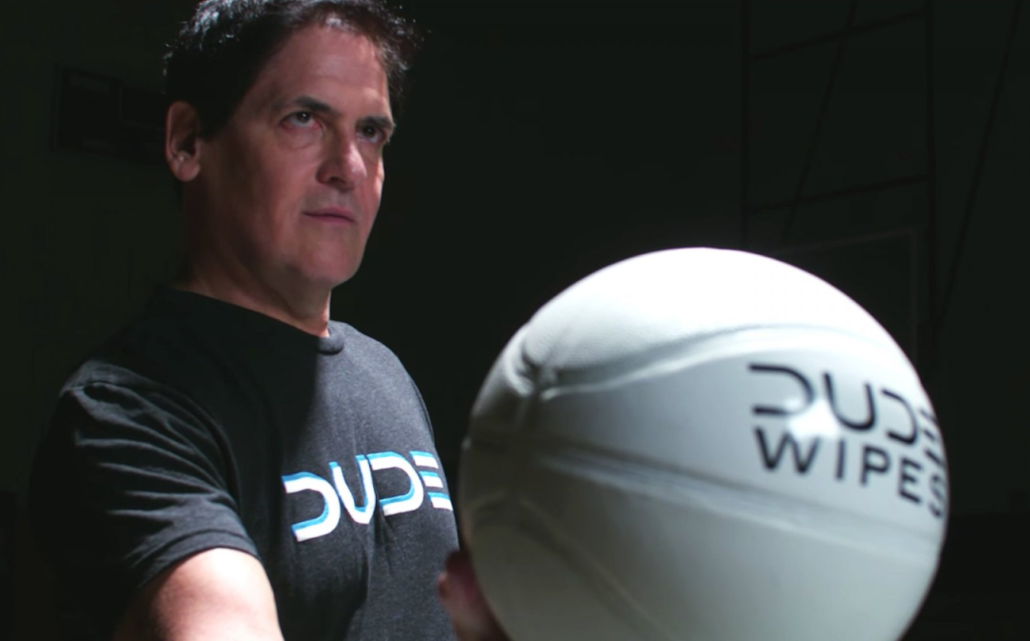 Dude Wipes is a heartwarming story of 4 best friends from Chicago who formed a successful business together.
Even though the founders of Dude Wipes includes Ryan Meegan, Sean Riley, Brain Wilkins and Jeff Klimkowski, only Ryan, Sean and Jeff pitch the company on Shark Tank.
The quartet of friends grew up in the Chicago area and all obtained degrees in different areas including accounting, finance, industrial technology and marketing.
How did the Pitch go?
The pitch went surprisingly well but not surprisingly, none of the lady-sharks were very interested in the product.
Ironically, Mark Cuban was the first shark to go out of the deal citing an underestimation of marketing money. Not surprisingly, Kevin O'Leary wants to know their sales to date. The trio informs them that they have done $300,000 in sales to date and that they have a deal with Kroger markets.
This intrigues both Robert and Kevin but Lori and Barbara are concerned with the "flimsiness" of the product and back out. Robert and Kevin go back and forth with deal offers but Mark jumps back into the tank with a $300,000 for 25% equity deal and the Dude Wipe guys accept.
The Investment
The investment Cuban made in Dude Wipes has clearly paid off as the company is not only still in business; they are adding new products all the time.
It was reported in a season 8 Shark Tank update, that Dude Wipes made $3.2 million in their first year after their deal with Mark Cuban. Not only that, their products are now sold in stores like Target and Walgreens.
In 2020, it is estimated that their revenue total was somewhere around $30 million. The huge jump in sales is attributed mostly to the COVID pandemic and subsequent shortage of bath tissue and other sanitary wipe products.
Since so many advertisers were shying away from pay-per-click ad campaigns during the pandemic, the Dude Wipes guys capitalized on falling digital ad costs and were able to grow their brand in 2020.
Summing Up Dude Wipes
With some ingenuity, foresight and maybe some opportunistic good luck, Dude Wipes is still thriving today.
Mark Cuban must be tickled pink that he took a bite out of Dude Wipes which is adding products like the Dude Bomb, Chill Wipes and more to it's repertoire of popular items. It will be interesting to see how Dude Wipes expands on it's brand in the future.