Ezoic Vs AdThrive Vs Mediavine – What's The Best Ad Network
If you are interested in Blogging, you need to know about display ads as a way to earn serious passive income going forward.
The Differences Between Ezoic, Mediavine & AdThrive mainly come down to the Minimum Traffic required to sign up, The quality of the Ads, the affect on site speed, The revenue per thousand sessions (RPM), The dashboard, the control you get over the placement of Ads, the quality of the support, the community and the payment conditions. We rank them like this: 1. Mediavine, 2. Ezoic, 3. AdThrive.
When I started blogging, I was all out, gunning for Affiliate Sales with no thoughts whatsoever about running Display Ads for passive income.
As I gained more experience in the field, however, I started to hear a few tales about people making $20 per 1,000 visitors and I couldn't believe that it was possible.
I started to hear about companies like Ezoic, Mediavine and AdThrive as alternatives to Google Adsense and my interest was well and truly peaked.
So much so that I even put Google Adsense on my first site and started earning a poultry $3 per 1,000 views but, hey, it was passive so I was all in to keep going on my journey.
I toiled and toiled, writing post after post until I was eventually accepted by Ezoic and started earning $10 per 1,000 views. I was making $10 per day for nothing plus a bunch of Affiliate.
Fast forward a year and I've now tried all of the leading Ad Companies and had differing experiences with each one.
Our Display Ads now bring in just as much as our Affiliate and we are still all out to earn more and more passive income as our sites grow.
The Long And Short Of It
| | | | |
| --- | --- | --- | --- |
| | EZOIC | MEDIAVINE | ADTHRIVE |
| Entry Requirements | Low (10k Pageviews P/M) | High (50k Sessions P/M) | Very High(1ook Sessions P/M) |
| Approval Process | Quick And Easy | Slow But Good | Fast But Picky |
| Set Up Process | Excellent | Excellent | Very Good |
| Quality Of Ads | Ok | Excellent | Excellent |
| Video Player | Yes (Beta) | Yes | Yes |
| Dashboard | Excellent | Excellent | Very Good |
| RPM's | Medium | Very High | High |
| Community | Not Really | Excellent | No |
| Biggest Con | Ezoic Premium | Slow Payment | Hard To Get In |
| Payment Terms | Net 30 | Net 60 | Net 45 |
| Overall Score | 88/100 | 98/100 | 78/100 |
If you want to know our strategy for these Ad Providers, It's simple:
Get onto Ezoic as quickly as you can and then move other to Mediavine once you hit 50k sessions.
Stay with Mediavine for the rest of your life, they are the best.
Minimum Requirements – Ezoic vs Mediavine vs Ad Thrive
Ezoic
Ezoic require 10,000 pageviews per month before they are going to accept you into their platform.
That works out at just over 300 page views per day which isn't a huge amount of traffic but it might still take you a couple of months to reach.
If you are a member of Income School, they actually waive this limit as well so you can start earning decent income on your blog from the Get Go.
Otherwise. Target long tail, low competition keywords to start and you should get there quickly enough.
Mediavine
Mediavine used to only require 25,000 Sessions but when the Pandemic hit, they were inundated with new applications and the review process was eating up valuable company time.
They decided to switch to the current requirement of 50,000 sessions per month which is almost 2,000 a day.
Bottom line, they have started only taking bigger sites.
There are plans at Mediavine to introduce a package for smaller sites but we don't have a solid date for that just yet.
Ad Thrive
Ad thrive require 100,000 Sessions per month to join up which is a very large site.
They only want to work with a smaller number of sites that fit in with their strategic goals and it can be hard to get passed their website review, with no reasons given for rejection.
On Boarding Process
Ezoic
Fast Acceptance/Low Rejection
Ezoic are on the pulse when it comes to approving you and getting you set up on the platform and it is very hard to get rejected by Ezoic once you meet the Adsense guidelines for suitable content.
They will set all the initial ads up for you but you have complete control from your dashboard around the placement of each ad.
Mediavine
Slow Acceptance/Rejection
Mediavine took 4 weeks to accept our approval but once we got in, the process was amazing.
The developers made changes to out site and we got all the Ads live in no time, after the lengthy approval process.
You also get invited to join the thriving Facebook community with Mediavine on acceptance which is actually a nice touch.
Ad Thrive
Fast Acceptance/Rejection
Ad Thrive can get you accepted or rejected within a couple of days and once accepted they will set up all of your Ads for success giving you good control over the Ad placement and layouts.
You hook your site up with a piece of code for the header and your developer will get to work in getting a solid set of ads up and running for you.
Dashboard
Ezoic
Nice Dashboard/Complete Control
Ezoic has a really nice dashboard and you get complete control over where your ads are placed on the site.
If there are too many, take some out and if there are too little, add more, it's that simple.
They have also finally added a video feature which is now in Beta mode.
Mediavine
Revamped Dashboard / Good Control
Mediavines revamped dashboard looks great and gives you all the data you need to see exactly which content is bring in the most revenue for your website.
Mediavine set you up with 6 basic placements and they recommend you to keep them for 2 months at least.
You can select a level of Ad density for each platform and you can also include videos, overall Mediavines dashboard is excellent.
Ad Thrive
Nice Dashboard, Good Control
Ad Thrive also have a nice dashboard where you get to see all of the key stats like earning per page and device.
How much your videos earned and plenty more.
You can't see earnings per country and it is not as good as Mediavines dashboard but still impressive.
You get simple options like Mediavine for Ad Volume in the Ad Preferences section but not full control.
Earnings
Obviously the most important category of them all. This is going to differ from site to site and niche to niche for each Ad Provider.
This is what we found RPM wise:
| | |
| --- | --- |
| Platform | Earnings |
| Ezoic | $10 Or Less – 3 Sites |
| Mediavine | $30+ |
| AdThrive | $20+ |
Ezoic: $10 RPM
I was hoping Ezoic would considerably increase our income and it did.
We started earning 300% more than Google Adsense immediately with Ezoic.
When the pandemic hit, the earnings did drop considerably though and we gave Mediavine a try when we hit 50,000 sessions.
Mediavine: $36 RPM
We had a bit of a slow start with Mediavine too but I've been able to hit RPM's as high as $36 with them and it averages out at $30.
That's probably the main reason why Mediavine are my favourite company but there are plenty of others.
Adthrive: $20 RPM
AdThrive have a high gate that you need to get over to join their platform of 100k sessions per month.
Not only that, they really only want to accept Food Bloggers and those that fit their target market.
Due to the difficulty in getting onto the platform we said we would give them a try.
We were only able to hit an RPM of $20 with AdThrive and we stuck with them for 3 months before moving back over to Mediavine.
Again it is important to note that every niche is different and you may well have a different experience.
The Payment Terms – When Will I Get My Money?
Of course it makes a big difference when you are going to actually be paid, especially when just starting off.
Ezoic – Net 30 Days
The money you earn with Ezoic for the month will be paid to you 30 days after the end of the month.
Mediavine – Net 60 Days
Mediavine are the slowest payers, once you sign up with them, it will take 90 days to receive your first payment.
That is a bit of a blow when moving over from Ezoic as you might have 2 months without a payment.
That being said your earnings should increase a lot and you should be able to enjoy seeing 2 or 3 months of earnings sitting in your account waiting to be paid.
AdThrive – Net 45 Days
Ad Thrive again are in the middle and pay in the middle of the month.
The earnings from this month will be paid, not at the end of the following month but half way through the month that follows that.
Ezoic is the winner when it comes to payment, straight into your paypal account and the end of the following month.
Are Their Ads Better Than AdSense – Ezoic, Mediavine & AdThrive
It's no secret that AdSense is a mess and you are probably best to stay away.
The AutoAds features just throws a load of Ads on your site with no thoughts of quality control and optimization given at all.
They also only use the inventory from the Google Ads Display network which means they don't use the quality of the Ads that the others use.
Ezoic, Mediavine & AdThrive are all Certified Google Publishing Partners and that means you are also going to get access to Google Double Ad Exchange program.
This has better Advertisers which = Higher RPM's for you.
Ezoic Premium – Why Oh Why

All of these Ad Platforms have access to premium advertisers that will net you considerable bank.
Mediavine and AdThrive give you access to this premium pool automatically and it can really boost your earnings.
Ezoic however, Charge YOU! For access to their premium pool and it is a monthly fee.
It goes like this, you pay them whatever per month based on the length of the 'CONTRACT' and they will guarantee to pay you more in premium revenue than what you pay in.
It doesn't make too much sense to me but I think it may be more about the contract than the payment, they want their users to stick around for the long term.
Anyway, I am going to list this as a con. You need to pay upfront and wont get the money back for 60 days, hardly ideal for a new website!
Oh yeah, and the program is invite only too, it's a strange one!
Machine Learning & Artificial Intelligence
All of these companies utilize Machine learning to see which Ads are performing best, to build up data over time and to see which Ads are performing best.
Ezoic, again takes this to the next level by also optimizing the AMOUNT of ads shown on each page.
Sometimes, when companies are competing against each for a spot on your site, it makes sense for them to only show 1 of the ads to generate the maximum revenue.
Mediavine & Lazy Loading Ads
One of the biggest Gripes about Ezoic is the effect it has on the speed of your site.
Mediavine get around this by lazy loading the Ads and this has distinct advantages.
The Ads only load when you browse that far down the page to actually see it and that has less of an effect on your site speed.
It also lets advertiser know that if they get an impression through Mediavine, the user has actually seen the Ad and are willing to pay more for the privilege.
Quality Of The Ads And Site Speed
Ezoic
The biggest complaint we hear about Ezoic is that it slows the site down to a crawl and the Ads are very intrusive, stealing too much attention away from the content.
To combat this Ezoic offer a site speed membership where they will take care of your site speed.
Again, this ia monthly membership when I would consider something like that to be a once off piece of work.
If you can pay a developer to do it through Upwork, that could be a better option for your business cos with Ezoic, it isn't cheap.
Mediavine
Excellent quality Ads that load fast and the video player is also excellent.
Mediavine are a top company who are on the ball when it comes to performance and monetization.
AdThrive
AdThrive have excellent Ads and a minimal impact on site speed as well.
AdThrive uses 'Smart Loading' as opposed to lazy loading and this is a combination of Lazy Loading and Asynchronous loading.
Again, it must be said AdThrive are an excellent company but we didn't earn as much as we do with Mediavine.
It can be different for every site.
Ezoic Pros And Cons
Pros
Low Barrier To Entry
Good RPM's
New Video Player
Excellent Dashboard
First Taste Of Real Money For Your Site
Cons
Ads Slow Down The Site
Intrusive Ads
RPM's Not As High As Others
Can Be Hit Or Miss
Mediavine Pros And Cons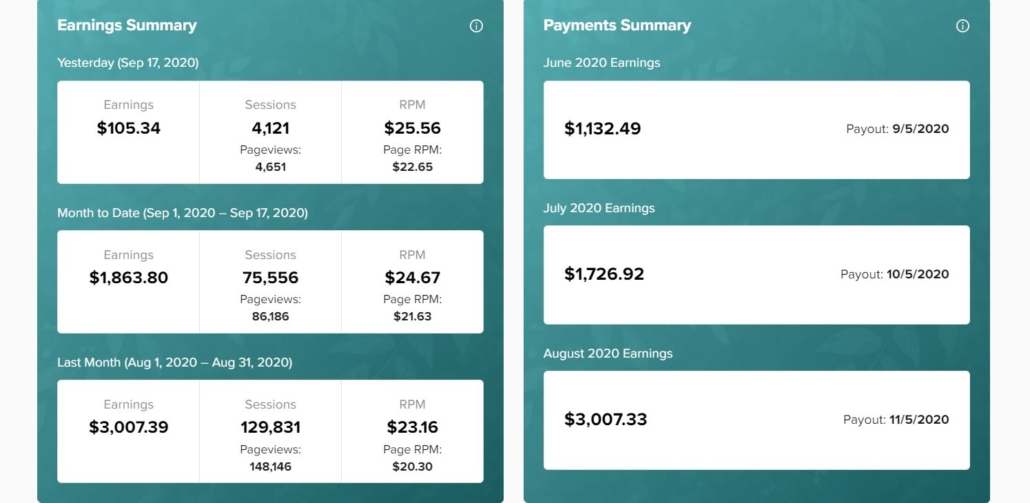 Pros
Best Ad Platform
Lazy Loading For Fast Speeds
Highest Revenue
Best Dashboard
Thriving Community
Cons
Long Wait For Acceptance
Higher Barrier To Entry
AdThrive Pros And Cons
Pros
Good RPM's
Great Quality Ads
Excellent For Their Target Niches
Great Dashboard
Excellent Support
Cons
Highest Barrier To Entry
RPM's Lower Than Mediavine Typically
Reject A Lot Of Sites
Conclusion
All of these platforms have a lot to offer but our method of monetizing through Display ads is Simply:
Join Ezoic as quickly as you can
Switch to Mediavine at 50k Sessions and stick with them forever.
Only try AdThrive if you are a food blogger or are not happy/rejected by Mediavine,
For us, Mediavine is the best company offering the most revenue.