Is Blogging A Waste Of Time In 2022?
Is Blogging a waste of time in 2022 or can you actually still make money?
The great debate of the 21st century rages on.
We hear bloggers talking about how much money they earn and we see people giving courses about blogging like it's going to be a walk in the park.
We also hear the pessimists who say it is a load of crap and you can't make money doing that anymore.
The truth is somewhere in the middle.
Blogging is a great business model because it produces passive income, is scalable and you can start with any budget. Blogging is also just like any other business in that it requires a lot of consistent hard work and persistence.
You aren't going to be successful at blogging over night and you have to know what you are doing. For those who give up to quickly or write a bunch of articles that no one is searching for, it can definitely be a waste of time but for those who have realistic expectations and are willing to put in the work, it can create a solid business that offers the owner freedom and wealth.
Why People Call Blogging A Waste Of Time
They Pick The Wrong Niche

They Create The Wrong Content

Having The Wrong Expectations

They Give Up Too Soon
A friend of mine ran a successful Boxing blog for years and I just kind of buried my head in the sand and thought that he wasn't making any money, I mean how could he have been?
He obviously starting the blog as a hobby, got some traction and realized how to monetize.
That was a long time ago when blogging wasn't so competitive, unlike today.
In today's Blogosphere we have to box smart, know what we are doing and write the correct articles that people are actually searching for AND where we can beat the competition.
The truth is that not all Blogs are going to be successful and different niches require different amounts of work. If you get into something like the dog niche, you are going to have fierce competition.
That is not to say you can't be successful in a competitive niche, but you need to be extremely clever about what you are doing.
Reasons Why Blogging Can Be A Waste Of Time:
Picking The Wrong Niche
Some spaces like dogs, are going to be extremely competitive and if you want to get in, it is going to take a lot more effort than other niches.
Some niches are going to be too small and while you can get traffic here, you are going to run out of titles.
If we want to go into a medical related niche, we need to prove to Google that we are Doctors or health officials.
The EAT algorithm update means that it is much harder to rank when peoples health is on the line. For these topics, google favours large established sites, even if the articles aren't as good. I learned this the hard way with my CBD blog.
I would say to avoid the health industry completely unless you are a doctor.
Once you pick the right niche, you will never run out of new articles to write and then the goal is to create quality content that Google will rank and come up with a monetization plan.
Writing The Wrong Content
Your content plan needs to be tailored around what your audience is searching for and then creating the best content that is available to address their query.
One of the most crucial steps to Blogging is Keyword Research. We need to make a list of titles that people are searching for.
Then we need to decide which ones we can write most effectively and weigh up the competition to see if we can be the best.
We always want to aim for first place!
They Have Unrealistic Expectations
Blogging is not an easy option and it is not going to pay you loads of money up front.
With blogging, you do all the work at the start and receive all the benefits at the end. People who can delay gratification the longest are the best candidates for blogging.
Think about starting a business before the internet. You would need to rent a space, buy stock and supplies and hope that you create something people want to buy.
If no one wants to buy what you produce, you end up with a bankrupt business or in personal debt to pay back supplies and lease agreements.
With the Internet, you can start for free and even create the product after you receive the order.
With blogging all you need is a laptop, some knowledge, patience and a solid work ethic to get up and running.
They Give Up Too Soon
Google isn't going to even consider ranking your site for 3 months. I mean, you are going to get literally zero traffic so don't expect to make a living right off the bat.
Once you start to get some rankings and traffic, Google will start to trust you more and the traffic will start to build but the process is still slow.
If someone put in a month of solid work, they may say it was a waste of time and then come back 6 months later and see all their articles are ranking and bringing in traffic.
Realistically:
You can start earning some money in 6 months

Good money in 1 year,

Excellent money in 18 – 24 months.

F.U money in 3 years.!
It all depends on how hard you are willing to work!
Create Wealth With Blogging – Not Just A Job
Advantages Of The Blogging Business Model
Low Start Up Costs

Work Around Your Passion

Scalable

No Office Or Staff

Write Yourself Or Outsource

Location Independence
I started a digital marketing agency with the intentions of taking over the country but once I got to a certain point, I realized how difficult scaling a business like that really is.
You need physical staff and office space for one and you have to deal with an expanding customer base that are difficult to please while juggling finances and working in an office non stop.
I quit Microsoft because I wanted freedom and I wasn't getting that with my Agency.
That's when I discovered Blogging and could quickly see the benefits.
You can write the content yourself or pay somebody to do it.
You can earn through Affiliate Marketing, Display Ads And Digital Products
It's easy to scale once you get into a rhythm, just hire more writers and editor to put the blogs on the site.
The phone is not going to be ringing non stop with people complaining.
You can achieve wealth and location independence.
What Is Wealth?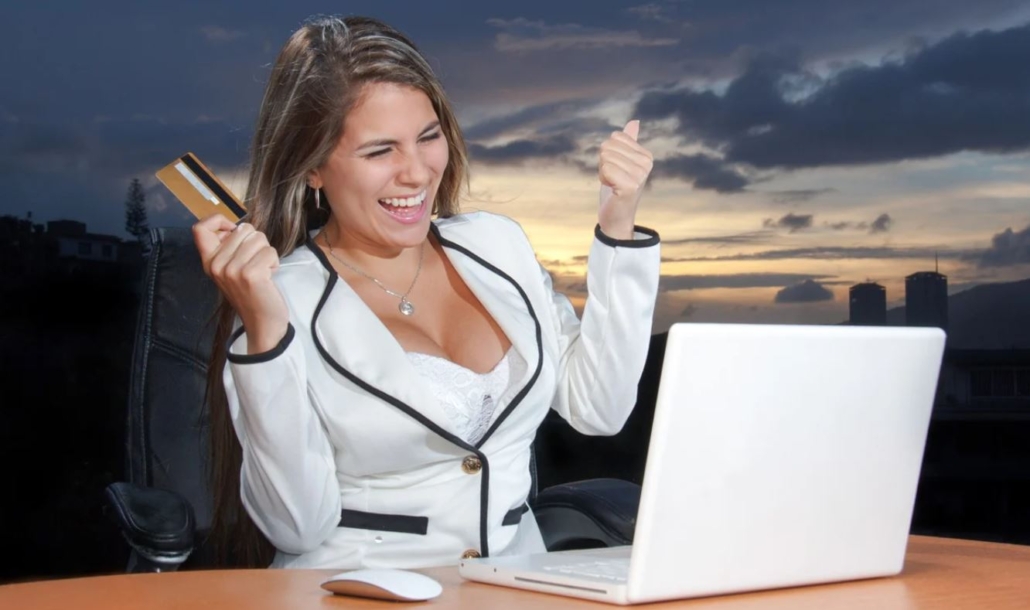 Wealth is how long you could survive if you stopped working today.
When you have a successful blog, the answer is probably forever and if it is, then you have achieved wealth. You don't need to be making a fortune or have a fortune saved, but that doesn't hurt either.
The income from blogging is passive, you do the work once and it keeps getting traffic and producing revenue.
Depending on your circumstances, you can move to another place where life is much cheaper, continue to grow your income and start to really enjoy your life again.
What's more is that people tend to create Blogs around their passion and if you love the work you are doing, then is it really even work?
You can also have multiple blogs and use them to get more involved with the things you are interested in.
This is all sounds great but we need to understand that it is not all sunshine and rainbows with Blogging either.
Paid Blogging Courses
Ok, so you are still interested in starting your blog or finally pushing it on to success, now we gotta talk about tactics.
Are you just starting out or are have you been failing miserably up to this point?
Maybe you just need to wait a bit longer for your articles to rank or maybe you need to take a different approach and while I plan on making a blogging course very soon, it is not ready yet.
Income School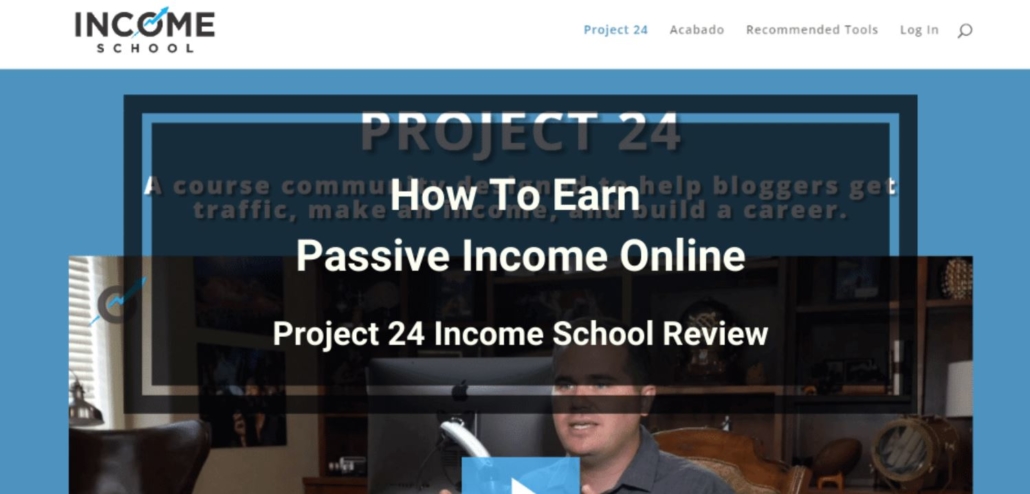 Jim Harper and Ricky Kessler have about the best blogging course on the market today at an affordable price.
They have a 60 step guide to creating your blog along with Youtube courses, Pinterest courses and plenty others.
The courses are back by a thriving community and an excellent podcast that is mandatory listening for me every weekend.
If you want an excellent blogging course and community while you are waiting patiently for my blogging course to come out, this is it.
NB: Yes they have an affiliate program but I am not in it, so you know the tip is legit!
Blogging And Youtube Is A Powerful Combination
When the internet became mainstream, you could blog about anything and quickly gain traffic.
As more and more people realized the opportunity, blogging got more competitive.
Even though Youtube has been around for a while, it's a platform that is crying out for content.
If you can combine a successful Youtube channel with a Blog in the same niche, you are creating a recipe for massive success.
There are plenty of ways to make videos, you can record yourself talking on camera or you can talk in the background while you show users your screen.
Another option is to create slideshow videos which can also be very successful.
Whether you want to show your face or not, Youtube is an excellent way to speed up making money from your online efforts.
Three Ways To Make Passive Income
So how do successful Bloggers make their passive income?
Affiliate Marketing
Affiliate marketing involves recommending products to your readers and placing affiliate links to that product for anyone who is reading your blog to click on.
An affiliate link is given to you by the supplier of that product and when a user clicks the link a buys, you get a percentage of the income.
Amazon is still the best and easiest affiliate program to sign up for as they have such high conversion rates.
If a reader clicks a link to Amazon from your site and buys anything with 30 days, you will get 1 – 8% of the sale as a commission.
The cookie period determines how long a customer has to make a purchase while you will still be credited with the sale.
While Amazon is the best, there are plenty others available.
Display Ads
Those Ads you see popping up on almost every website you visit, they are display Ads and they can earn a full time income for a medium sized blog.
People start out with Google Adsense, make a pitiful return and think that these ads a re a waste of time but when you get to a more decent level of traffic, they can become a lot more lucrative.
I took a Blog from Zero to Large and here is the RPM's I earned. RPM is earnings per thousand visitors.
Adsense: $3 RPM

Ezoic: $8 RPM

Mediavine: Up To $30 RPM
Adsense
Adsense are googles default Ad provider, they offer you your first earnings and take you in with any traffic level.
Good to get started but there are far more lucrative Ad management networks available.
Ezoic

Once you hit 10,000 sessions per month you can earn 3x the RPM with Ezoic who will set everything up for you and continually optimize it so that you earn the highest amount possible.
This is more than likely going to be your first taste of decent passive income money.
If you are a member of Income School, you can bypass the 10k requirement which is also worth keeping in mind to earn a decent per visitor revenue as early as possible.
Mediavine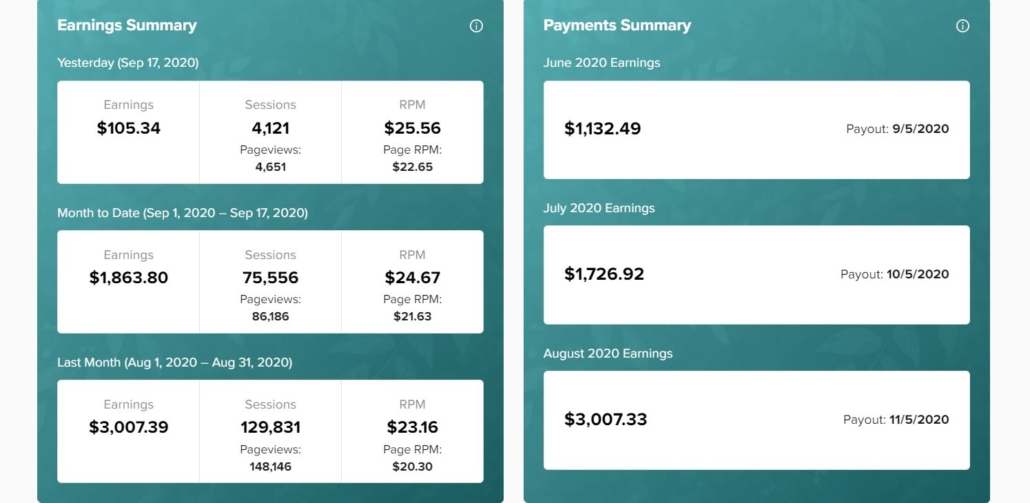 Mediavine are the best Ad Management Network I have come across to date by a long way.
They set everything up on our sites, hassle free and the earnings have kept rising and rising consistently to the point where it is almost at $30 per 1,000 visitors right now.
This is awesome because if you are doing even 3 to 4k visitors per day, this is going to be a full time income on it's own and you should be able to double it with digital products and courses.
Digital Products And Online Courses
If you are an expert in an industry, you should be able to create a digital product to monetize your audience even more.
Create an E-Book or an Online Course with enough value and you will be able to sell it over and over again to happy customers.
Think about it, if you can sell a $20 to 1% of your audience and you are getting 5k visitors a day, that is 50 sales or $1,000, even if your conversion rate is .1%, that is still $100 a day in passive income.
Online course can command even higher margins and conversion rates, learn to promote both through your Youtube channel and Blog.
Steps To Creating Your Successful Blog
Select A Good Niche

Use A Premium WordPress Theme That Can Handle Content And Ads

Do Proper Keyword Research

Create Quality Content Better Than What Is Currently Available

Be Patient And Wait For Traffic To Build

Create Reviews And Recommend Quality Affiliate Products

Put Display Ads On Your Site To Monetize

Think About Creating A Youtube Channel

Creating Digital Products And Online Courses

Scale To The Moon

Create New Blogs
Conclusion
After seeing the ways we can monetize our traffic you should know that blogging is only a waste of time if we never generate a decent amount of traffic to the site.
Once we have a decent audience, there are plenty of way to grow our revenue and it is all passive.