The Most Expensive Airbnb's in the USA
In 2008 Brian Chesky, Nathan Blecharczyk and Joe Gebbia decided to rent out air beds in their apartment. They had heard that all of the local hotels were fully booked, and that attendees at a nearby conference were struggling to find a place to stay. The trio decided to call their venture "Air Bed and Breakfast."
Who knew that this simple case of supply meeting demand would be the beginnings of Airbnb, a business that's currently valued at  $110 billion?  Nowadays there are around 600,000 listings in the U.S. alone, and you'll find everything from cheap and cheerful rooms to luxurious and palatial residences. The company even has its own YouTube Channel, offering an insight into the business, how-to guides etc.
Today we're going to focus on the very best – the most expensive Airbnb's in the USA. So, pack your suitcase, grab a flute of chilled champagne, and let's take a tour of some of the most exclusive Airbnb's around. Here's a brief overview to get things started:
Location

Property

Rating

Accommodation

Price per night

2022

California

Renaissance Carmel Valley Villa

4.81

16 Guests

7 bedrooms. 4 bathrooms

August 6th $6543

Miami

Amazing one-acre Waterfront Estate

4.89

16 Guests

10 bedrooms. 9.5 bathrooms

August 6th $8628

Texas

Super Bowl Squirrel House

N/A

7 Guests

4 bedrooms. 5 bathrooms

August 6th $4319

Colorado

Brand New LoHi Masterpiece

5.0

12 Guests

4 bedrooms. 3.5 bathrooms

August 6th

$1376

Los Angeles

Entire Villa in Bel Air

4.89

12 Guests

6 bedrooms. 5 bathrooms

May 6th

$3322

San Francisco

Spectacular waterfront home Marina District

5.0

16 Guests

6 bedrooms. 5 bathrooms

August 6th

$2193

Hawaii

Luxury oceanfront villa

4.96

6 Guests

4 bedrooms. 4.5 bathrooms

August 6th

$2157

San Diego

Casa Blanca.

Beach mansion

N/A

12 Guests

5 bedrooms. 4 bathrooms

May 6th

$1967

New York

Southampton

Residential Home

N/A

16 Guests

7 bedrooms. 4 bathrooms

August 6th

$4314

Las Vegas

Bowlingvilla

4.94

16 Guests (up to 30 max)

11 bedrooms. 11 bathrooms

August 6th

$4411

Atlanta

Atlanta Estate

5.0

16 Guests

10 bedrooms. 8.5 bathrooms

August 6th

$3387

Arizona

Legacy Lodge New Forest

5.0

16 Guests

9 bedrooms. 9.5 bathrooms

August 6th

$2761

Chicago

Chicago Gold Coat Home

5.0

8 Guests

4 bedrooms. 6.5 bathrooms

May 6th

$2584

Montana

Stunning Penthouse in Big Sky

N/A

10 Guests

4 bedrooms. 3.5 bathrooms

6th May

$2157

Oregan

Riverfront Cabin

5.0

16 Guests

11 bedrooms. 6 bathrooms

6th August

$3236

Ohio

Luxury Estate in Shaker Heights

N/A

10 Guests

5 bedrooms. 5 bathrooms

6th August

$2416

Georgia

Entertainment Dream in Buckhead

N/A

15 Guests

6 bedrooms. 9.5 bathrooms

August 6th

$8628

New Jersey

Icon Playce. Beach Mansion

4.78

16 Guests

5 bedrooms. 5.5 bathrooms

6th May

$3279
Exclusive and Expensive Airbnb's
If you want to stay in a luxurious, palatial pad you're going to have to dig deep financially. However, in this case you certainly get what you pay for. Many of the properties listed are akin to the homes of famous celebrities.
We're talking sweeping driveways, high-end fixtures, sumptuous furnishings, and added extras such as swimming pools, manicured grounds, hot tubs etc.
We've already compared the price per night, number of bedrooms/bathrooms and Airbnb review scores (see table above), now let's take a closer look at what each rental has to offer.
Renaissance Villa – Carmel Valley, California
Silicon Valley, fine wines, surfing, the Golden Gate Bridge and of course Disneyland, California has a lot going for it.
The Golden State is also home to the Renaissance Carmel Valley Villa, an impressive Airbnb with an authentic stone exterior, carved wooden beams, and a majestic fireplace. The villa also boasts one-acre grounds complete with a pool and spa.
The Airbnb is located in Carmel Village, where you'll find an abundance of wineries. Further afield there's the Pebble Beach Resort – perfect for golfing enthusiasts. The local area also boasts farmers markets, hiking trails, beautiful beaches and spectacular views.
Waterfront Estate – Miami, Florida
With its beaches, orange orchards, Everglades, and pleasant climate, Florida is a popular destination for travelers.
Situated in the South-East of the state, Miami is known for its white sands, Cuban coffee, and bustling nightlife. There are lots of Airbnb's in the city, including the Waterfront Estate.
The estate benefits from landscaped grounds, a pool, and hot tub. Head inside and you'll be greeted by stylish and spacious rooms, including a state-of-art kitchen. Location wise, the Waterfront Estate is close to action, and has direct access to the lake.
Super Bowl Squirrel House – Santa Fe, Texas
The lone star state of Texas is renowned for live music, The Alamo, BBQ's and warm weather.
You'll find the Super Bowl Squirrel House nestled in Santa Fe, a suburban city in Galveston County.
The house is near to Galveston, and roughly forty-five minutes from Houston, where you'll find numerous bars and restaurants.
There's a pool to enjoy and several acres of land, offering plenty of privacy (keep your eyes open for the squirrel statue). Inside there are two fireplaces and all the amenities you require for an enjoyable stay.
LoHi Masterpiece – Denver, Colorado
A brand-new Airbnb, this huge townhouse has three HD TV's with Sonos systems, and a kitchen equipped with a range of high-end appliances.
Outside there's a double garage, an upstairs deck with a firepit, two entrance porches, and a backyard (with yet another firepit and a 20′ LED backlit airplane)! You'll also find the obligatory BBQ area – you are in Texas after all!
The LoHi house is located in Denver, which is known as the Mile High City due to it sitting 5280 feet above sea level. It's just a few minutes' walk to a variety of bars and eateries.
Villa – Bel Air, Los Angeles
A haven for celebrities and well-heeled tycoons, Bel Air is a glamourous district located in the lush greenery of the Santa Monica Mountains.
The neighborhood feels right at home in Los Angeles, which is at the heart of the movie industry.
The villa in Bel Air has a Mediterranean feel and boasts views across the golf course.
The grounds are stunning and feature gardens, lush vegetation and a trio of waterfalls! There's a heated pool too (this costs extra).
Inside there's everything you need for a luxurious stay, from Sonos speakers to a well-appointed kitchen. A short drive will take you to Westwood village and the Brentwood area, where you will find a selection of exclusive restaurants and boutiques.
Waterfront Home – Marina District, San Francisco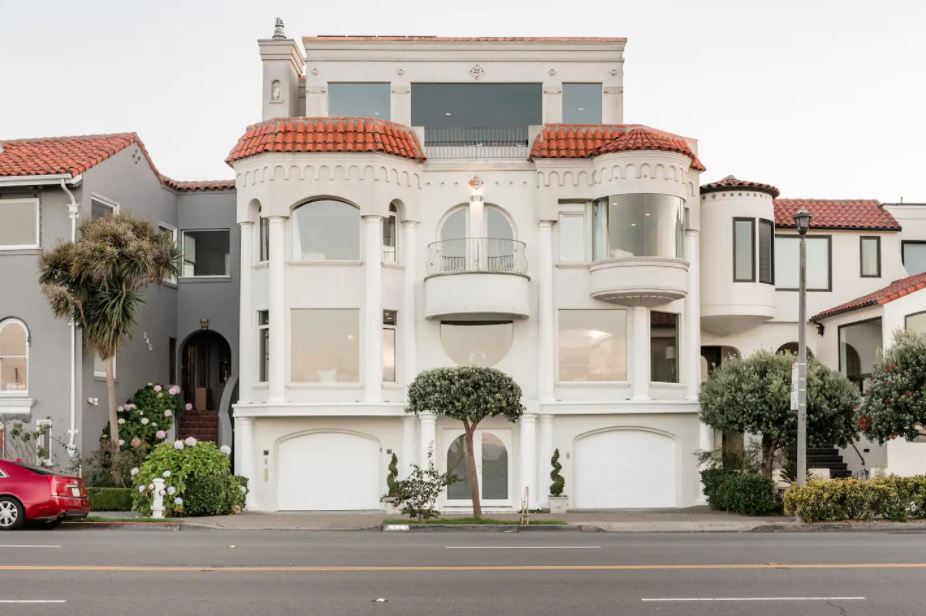 This beautiful waterfront home provides awe-inspiring vistas of the bay, and showcases striking architecture.
The fittings are all high-quality – think granite, marble and luxurious soft furnishings, and there's a welcoming fireplace too.
Outside you can enjoy the balconies, terraces, and spacious backyard. If you fancy a change you can amble to the bay, go for a bike ride or eat out at one of the local restaurants (there's an impressive array of upbeat bars and eateries).
The Marina District lies within San Francisco, home of Alcatraz, the Golden Gate Bridge and the Oakland Bay Bridge. The atmosphere is bustling, but there are plenty of parks and green spaces if you want to escape.
Oceanfront villa, Kailua-Kona, Hawaii
The Hula Dance, poke bowls, 750 miles of striking coastline, and a smattering of volcanoes – welcome to Hawaii.
Home to the town of Kailua-Kona, where you can go deep sea fishing and then savor a cup or two of the distinctive Kona coffee.
If you're staying in Kailua-Kona where better to rest your head than in an oceanfront villa?
This private gated Airbnb boasts splendid views of Holualoa Bay and is situated near to Keolonahihi State Historical Park. The villa is all about indoor/outdoor living – prepare to be wowed by the large deck and infinity pool.
Casa Blanca Beach mansion, San Diego
Casa Blanca Beach Mansion  is set in an amazing location, very close to the ocean.
San Diego itself has 70 miles of sandy beaches and lots of popular attractions such as San Diego Zoo Safari Park and SeaWorld.
The mansion has a Spanish feel, and sits on a sprawling half acre plot. It's mere steps to the beach, so you can dip your toes in the water whenever the fancy takes you. There's a heated pool, spa, grill and huge lawn, and the interior is stylishly furnished.
Residential Home, Southampton, New York
How about an Airbnb in the big apple? Home of the Empire State Building, the Hudson River, and Central Park, New York is busy, bustling and bold.
This particular residential home is situated in Southampton, which lies to the ease of Long Island.
The town attracts celebrities and tourists alike, and there are sandy beaches, historic sites, museums and plenty of restaurants.
The Airbnb is around 4 miles from Cooper Beach and even closer to the shops. There's a gym with two Pelaton bikes, a pool and a hot tub. The kitchen is well-fitted out and there's an outdoor grill too.
Bowlingvilla, Las Vegas, Nevada
Game and sports enthusiasts are going to love Bowlingvilla – there's a whole host of fun activities on offer.
Bowligvilla has its own basketball courts (indoor and outdoor), swimming pool, pool table, foosball, putting green and bowling alley (amongst other things)!
Nevada is known as a gambling and entertainment mecca, and the villa isn't too far from the bright lights of Las Vegas. Try your luck in one of the many numerous casinos, take in a show and enjoy dining out.
Atlanta Estate, Ellenwood, Atlanta
The Atlanta Estate exudes elegance. Situated in Ellenwood, a small but pretty community, in the city of Atlanta.
The city played a pivotal part in the Civil Right Movement and you can't visit without stopping by the Martin Luther King Jr. National Historic Site.
The Estate itself is very private, at the end of a winding driveway and behind iron gates. The views are spectacular and there's an air of tranquility. Wander around the 2.6-acre gardens or relax in the sumptuous lounge.
Legacy Lodge New Forest, Navajo County, Arizona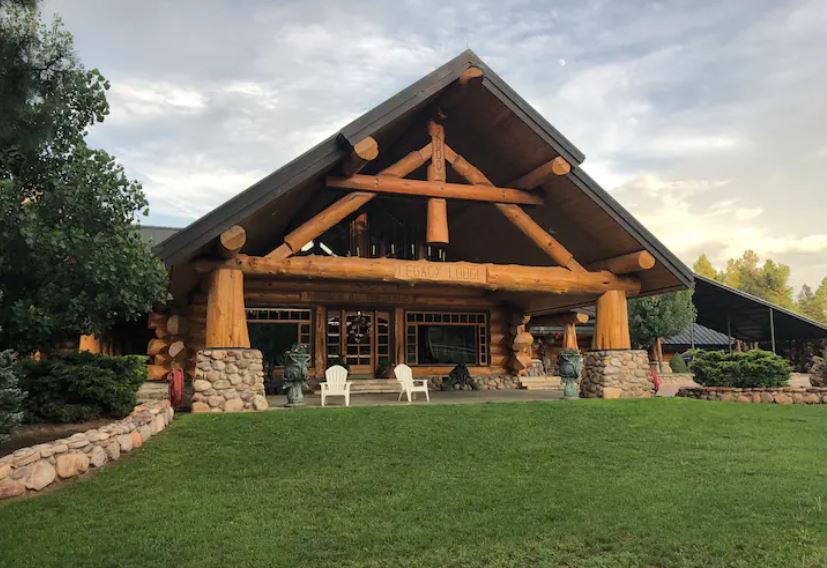 The Grand Canyon, Hoover Dam and red rocks of Sedona, Arizona is famous for its striking dessert landscapes, and mountain ranges.
Navajo county is situated in the northern part of the state and boasts parks and trails, ripe for adventure.
You'll find the The Legacy Lodge  in the heart of the forest. It's built from Western Red Cedar logs and sits handsomely amongst the trees. There's a pond for wild swimming, and fishing, a large treehouse, and a firepit/grill.
The indoor space is great too, with welcoming fireplaces, a well-appointed kitchen and a home theatre with projection equipment. If you fancy a change of scenery, venture out to the nearby eateries and shops.
Gold Coast Home, Chicago, Illinois
The  Gold Coast home is situated in Chicago, Illinois (known as the Land of Lincoln due to Abraham Lincoln's regular presence).
Chicago has an eclectic mix of skyscrapers and 1920's architecture, and the Gold Coast area is particularly appealing.
This Airbnb is just a block away from numerous restaurants, bars and shops, and offers luxury living. It's spacious and well-furnished, and you can even request the services of a catering chef to come in and serve up a delicious meal.
Stunning Penthouse, Big Sky, Montana
If you're looking for a Stunning Penthouse in the heart of Big Sky, Montana? This could be for you.
Big Sky is renowned for its excellent skiing, with 4350 feet of terrain to traverse. It's situated in Montana, known as the treasure state due to its natural and mineral reserves such as gold, silver and zinc.
The penthouse is modern and luxurious, with designer furnishings and a state-of-the-art kitchen. If you don't fancy cooking, you can request a private chef (apparently the best chef in Big Sky).
There's also a hot-tub, outdoor furniture and panoramic views. On top of that you can walk into town in minutes!
Riverfront Cabin, Sunriver, Oregon
Golf enthusiasts step this way, Sunriver is celebrated for its top-notch golf courses and championship golf.
Located in Oregon, the state known for its wild west heritage, Sunriver plays home to the Riverfront Cabin, an Airbnb with its own frisbee golf course.
The cabin is comfortable and welcoming, with spacious living areas and a wraparound deck. Make use of the hot tub, pool table, grill and ping pong table, or head out onto the river (just fifty meters away). Sunriver is five miles from the cabin, and you're twenty miles from ski opportunities at Mt Bachelor.
Luxury Estate, Shaker Heights, Ohio
Ohions love American football, and they are partial to rock and roll too (Ohio is home to the Rock and Roll Hall of Fame).
The Luxury Estate is located on the Shaker Heights estate, mere steps from the renowned Shaker Lakes park and verdant nature trails.
The Airbnb boasts stylish décor and a contemporary kitchen, along with hardwood floors and spectacular views.
Outside you can take a dip in the pool, and then take it easy in the large entertaining area, complete with fireplace. You're a short drive from Cleveland, where you can visit the Botanical Gardens and many museums.
Entertainment Dream Home, Buckhead, Georgia
This dream home is situated in Buckhead, a stylish neighborhood with art galleries, chic restaurants and independent stores.
Georgia has a diverse mix of farmland, mountains and coast, and is home to many attractions.
The Airbnb has plenty to offer including an infinity pool and marvelous views over the private lake. There's a large outdoor entertainment and grill space, gym, basketball area and even a bowling alley.
Icon Playce Beach Mansion, Atlantic City, New Jersey
New Jersey is famed for its breathtaking beaches, good food and eclectic culture, and Atlantic City is one of its well-appointed coastal resorts.
It's here you'll come across the Icon Playce a beautiful yellow mansion located at the inlet, that's just a few steps away from the beach.
There are no less than seven decks, and a rooftop area that looks out across the deep blue sea. Here you'll find the only crow's nest in the city – where you can make the most of the 340-degree views (the perfect way to see the sunrise and sunset).
Indoors, the mansion is spacious too, with a grand foyer featuring a crystal chandelier. The whole place is decorated stylishly, with high-end fixtures and quality fittings – comfortable and effortlessly chic.
Raise a Glass of Champagne to Expensive Airbnb's
It seems there's plenty of choice when it comes to expensive Airbnb's in the USA. Every state seems to offer a range of well-appointed, extravagant pads. From infinity swimming pools to hot tubs, private chefs to designer décor, these spectacular rentals are far from average!
The Airbnb's on our list are spacious and lavish, with all the amenities you could ask for. Many are set in stunning surroundings, be they steps from beautiful beaches, in the heart of the action, or enclaved by natural woodland.
We all deserve a little self-indulgence now and again. Life and busy and we spend much of our time working, doing chores etc. Wouldn't it be nice to enjoy quality down time in an Airbnb that screams luxury? Maybe it's time to treat yourself?