PolarPro Net Worth 2021 – What Happened After Shark Tank
PolarPro founder and CEO, Jeff Overall, made a dive into Shark Tank, pitching for $500,000 for 10% equity in his photography accessory business.
He managed to spark a feeding frenzy in the Tank, getting offers from multiple Sharks.
He left Shark Tank with more than he asked for, blown away with excitement and energy and has gone on to generate an estimated net worth of over $15 Million.
Polar Pro Quick Facts:
| | |
| --- | --- |
| Name: | PolarPro |
| Net Worth (2021): | $15 Million |
| Pitch: | GoPro and camera accessories |
| Entrepreneur: | Jeff Overall |
| Asked for: | $500,000 for 10% |
| Deal: | $1 million for 20% |
| Shark: | Robert Herjavec and Mark Cuban |
What Is PolarPro?
Owning a camera is not enough. A real photography enthusiast must have accessories! PolarPro is the one-stop-shop for an array of photography equipment.
While PolarPro offers a range of innovative accessories such as a selfie stick that charges camera batteries, it is the lens filters for GoPros and drones that makes PolarPro unique, as evidenced on their global website.
PolarPro caters mainly for the action sport photography enthusiast. The accessories are meant to be used in conjunction with GoPro cameras, enhancing the images obtained.
Who is Jeff Overall?
Jeff Overall is the founder and CEO of PolarPro. He is an entrepreneur – selling crabs online was his first business!
Overall is a passionate photography enthusiast who turned his love for capturing the moment into a successful business.
While on a skiing holiday, Overall experimented with polarized film layered over a GoPro lens to solve overexposure problems. This was the start of PolarPro.
Overall tells his own story here.
What Happened During The Pitch?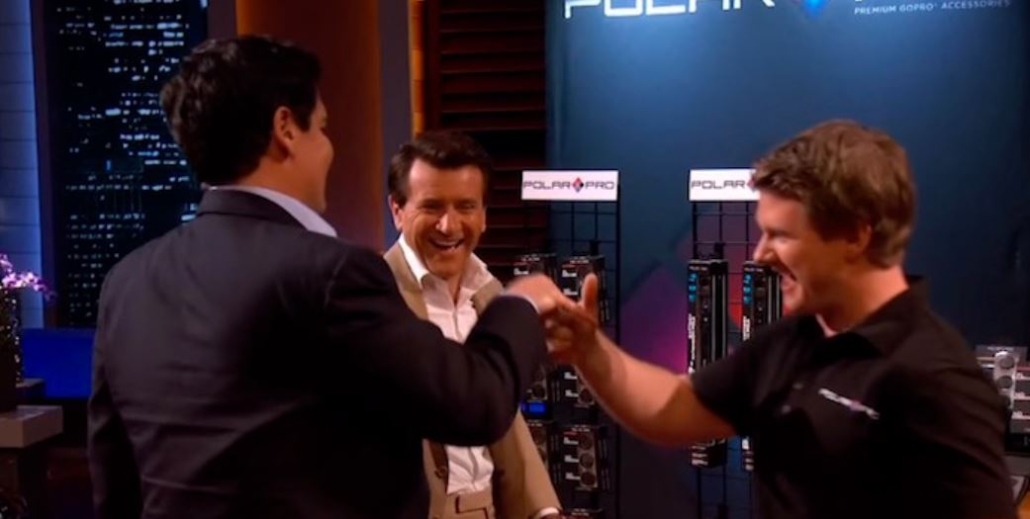 Jeff Overall entered Shark Tank pitching for $500,000 for 10% equity in his business PolarPro.
He enthusiastically but professionally presented a range of his innovative products, but then honed in on the drone and GoPro filter sets. These filters allowed photographers to capture vibrant and clear footage while protecting the camera lens.
Although PolarPro had product demand, Overall felt that an investment and a Shark partnership would push the company to new heights.
The Sharks were impressed by both innovation and quality of the products Overall demonstrated, and not unimpressed by his surfer-dude charm!
When questioned on the numbers, Overall was clearly proud of sales and profit margins. In response to Robert Herjavec's sales question, Overall revealed the rise in sales from $8 000 to $2.8 million and said he was on track to make $5.6 million for the current year.
The Sharks were impressed and Lori Greiner quizzed him on his business strategy in increasing sales in this way. Overall confidently explained that profits were reinvested, allowing him to create more unique and original accessories.
This led Kevin O'Leary to ask Overall what his profit on the anticipated $5.5 million would be. When Overall said around $300 000, the Sharks were confused, with Mark Cuban guessing that Overall should be making over a million in profits.
Overall disclosed that he was, but he was spending over a million on research and development.
O'Leary opted out saying the electronics market was too competitive.
Cuban asked Overall about exposure in specialty shops and Overall explained that whilst PolarPro was available in numerous surf shops, he wanted to get into shops like Best Buy and Sports Authority.
The Investment
Cuban bit; he offered $500 000 for 10%, which is exactly what Overall had asked for.
The Sharks began to negotiate amongst themselves for a bite of the deal! Daymond John asked Cuban to split the deal. When Cuban declined, John offered $500 000 for 15%, saying he would also help Overall with licensing.
Lori Greiner joined the negotiations, offering her strategic business assistance and $500 000 for the requested 10%.
Herjavec climbed on board saying more money would allow the business to grow faster. He and Cuban offered a combined deal: they would each put $500 000 into the company and each receive 10%. Daymond John upped his original offer to $1 million for 17.5% equity.
After a tense pause, Overall eagerly accepted the Cuban-Hervajec deal.
Conclusion
PolarPro has benefitted from the investments and the products are selling globally online and in hobby and surf shops.
The investment allowed PolarPro to scale up drone inventory and bring in stock at lower costs. It also allowed for the addition of a mobile phone range of accessories.
Keeping up with the constantly changing digital space is a challenge in this business.
PolarPro is listed as one of the top 9 successful Shark Tank businesses owned by millennials and PolarPro products consistently achieve excellent reviews.