Robert Herjavec Net Worth 2021 – Bio, Shark Tank, How He Made His Money
Robert Herjavec is an astute businessman! This year alone, despite all the setbacks of 2020, he has a $200 Million net worth. From internet security companies to information technology, and being a TV personality, he has made a killing financially. This Shark has led a fascinating life!
But his story was not always blessed with riches beyond compare. In fact, he came from humble beginnings and extreme poverty. Fleeing a communist government, they found refuge in Canada but were even worse off financially as a family.
So how did this fantastic businessman amass so much wealth throughout his life? Keep on reading to find out.
Robert Herjavec Quick Facts
| | |
| --- | --- |
| Full name: | Robert Herjavec |
| Date of Birth: | September 14th 1962 (Age 58) |
| Nationality: | Canadian |
| Ethnicity: | Croatian |
| Place of Birth: | Croatia |
| Marital Status & Children: | Married to Kym Herjavec & 5 Children |
| Occupation: | Investor, Businessman, TV personality |
How Does He Compare To The Other Sharks?
| | |
| --- | --- |
| Shark | Net Worth |
| Robert Herjavec | $200 Million |
| Kevin O'Leary | $400 million |
| | $450 million |
| | $300 million |
| Mark Cuban | $4.1 billion |
| | $110 million |
| | $80 million |
Herjavec's Early Life
As mentioned above, Herjavec came from an impoverished family. He was born in Croatia and grew up on a farm. It's interesting to note that whilst growing up, Croatia was under communist rule.
His father was often thrown into prison (22 times in fact) because of speaking out against communism.
Robert described his father as a tough man and was a major inspiration for him throughout his life, especially with regards to being courageous.
Eventually, when he turned eight years old, his family decided to make the massive move to Canada. His family arrived in Nova Socia with one suitcase and $20.
Whilst there they lived with a family friend for a few months in their basement. As you can see, this couldn't have been an easy move for the Herjavec family.
They were used to open spaces, farms, and had to learn a new language. Besides this, they were much poorer than others around them in Canada.
One memory which Herjavec mentions is complaining about being bullied at school; His father overheard him and told him never to complain.
Till today, these words have stuck with Herjavec and has been a motto throughout his life.
Robert Herjavec On Shark Tank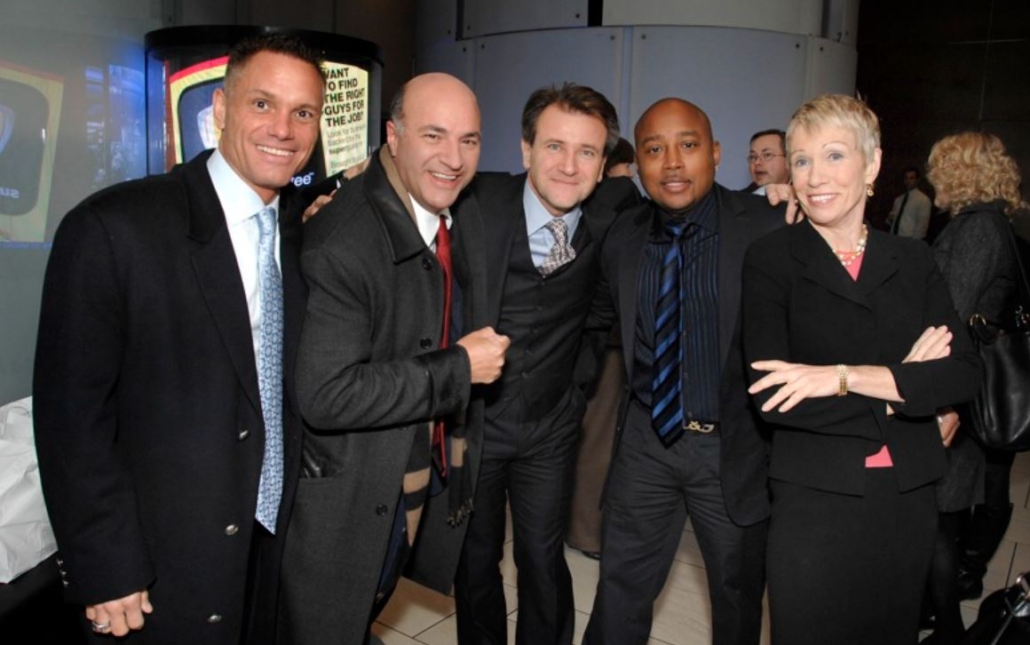 Robert had to audition for Shark Tank, and funnily enough, his partner for the interview was Kevin (We are unsure which Kevin it was, as he does not say.)
He further expands how, during the audition, Kevin was incredibly rude and kept cutting him off!
Herjavec mentions how he stood up and told Kevin if he doesn't stop being rude, he is going to have to take him outside and beat him up! They were both hired the same day!
You can only imagine how such fiery personalities make for excellent TV viewing! He joined the show in 2009 during the first season.
How Many Businesses Has He Invested in On Shark Tank?
According to Sharkalytics, Herjavec has invested $16,598,333 whilst being on the show; This amounts to 53 deals over 126 episodes.  He has heard over 511 pitches and has invested in 11% of these companies.
His largest investment was for $500,000 for a company called Zero Pollution Motors. Robert has 50% shares in the business, and one reason he most probably invested in the company is that he has an immense love of cars.
These little cars run on compressed-air, making them environmentally friendly. These cars were meant to be produced in mid- 2019, but unfortunately, the internet doesn't provide much more information.
What Other Companies Did He Invest In On Shark Tank?
This exciting company makes synthetic body parts and tissues! How's that for West Word Fans? Real-life A.I? Their mission is to replace live animals, cadavers and real patients for medical training purposes. 
Herjavec offered $300,000 for 25% stake in the business. Sharalytics mentions that SynDaver didn't get funded, but the company is continuing successfully regardless.
This gaming furniture manufacture has sadly closed down. Robert offered $300,00 for a 25% share in the business. Initially, the company wanted $100,00 for a 10% stake.
This trendy online store offers affordable, fashionable clothes for young women and teen girls.
Robert presented the founder Diana and Josh Harbour $1,2 Million for  20% equity.
The business is still doing really well! If you are keen on having a shop, please click here.
Where and What Did Herjavec Study?
Despite English being Herjavecs's second language, he amazingly majored with a degree in English Lit and political sciences.
He studied at the University of Toronto and from there did odd jobs to support his family.
How did Herjavec Initially Make His Millions?
Initially, Robert was in film production during the 80s. It's actually quite strange to think that from film production, he ended up creating a brilliant internet security company!
How did he learn about computer security? Well, he started working for a company called Logiquest, this business specialised in IBM mainframe emulation boards.
For six months Herjavec didn't take a salary and learnt all that he could, he eventually worked his way up to becoming a manager in the firm but was fired in 1990.
This was when he put his knowledge into use! Cleverly, he started up his own business called BRAK Systems, which became one of Canada's most prominent internet security and software technology companies.
He sold this business in the year 2000 for $30.2 Million! How's that for taking a negative situation, such as being fired, to building a multi-million dollar empire!
From here on the riches just kept pouring in. Herjavec then founded a company called The Herjavec Group; this is now one of America's fastest-growing technology companies, and they specialise in internet security.
The Herjavec Group has specialised in cybersecurity and has offered advice for The White House and even the Canadian Government.
Who Are Herjavec's Wife & Family?
Robert is married to Dancing With The Stars Kym Johnson. They got married on the 31st of July 2016.
He was married before to Diane Plese but got divorced in 2016, but they were separated for some time before their divorce.
He has five children, including twins, a little boy and a girl who were born in 2018. They live in a $7,5 Million residence which was on MTV-Cribs.
His hobbies include racing cars, golf and running.
In Conclusion
This rags to riches tale is truly inspiring. It just proves that you can make a success with courage and hard work no matter what your beginnings are.
So if you are thinking about starting your own business, take the shot! You never know where it might lead.