Shark Tank Vs Dragons Den – How Do They Compare & Contrast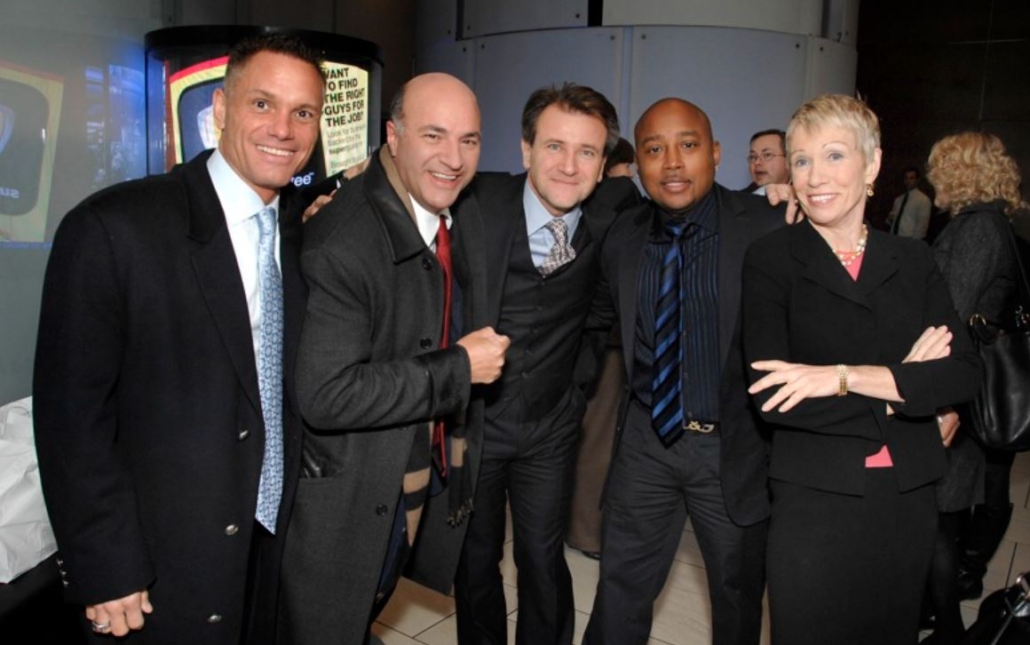 Which scares you more? The idea of dealing with the thunder of dragons or coming face to face with a shiver of sharks? Neither sounds an attractive prospect, but that doesn't seem to put off intrepid entrepreneurs.
Over the past few years, a succession of wannabe tycoons ventured into the US Shark Tank and the UK Dragon's Den. They pitched business ideas, and showcased new inventions, hoping to impress the group of successful moguls enough to secure investment.
Both reality shows share a similar format, but do they have anything else in common? Let's find out by comparing the two. We'll also take a look at the most successful participants and products, and check out the key differences and similarities.
Dragons Den Vs Shark Tank
Both Dragon's Den and Shark Tank are based on the original Japanese TV Show, Tigers of Money, which first aired in 2001. The popular format soon became an international affair, with adaptions aired across the globe.
The concept is straightforward, entrepreneurs pitch their ideas and products to investors, asking for money and business advice in return for equity in the business.
Dragons Den

Shark Tank

First broadcast

4th January 2005

9th August 2009

Country of origin

UK

USA

Broadcast by

BBC

ABC

Investors per show

5

5

Most prolific investor

Peter Jones

Mark Cuban

Most successful businesses

Reggae Reggae Sauce

Craft Gin Club

Magic Whiteboard

Wonderbly

Skinny Tan

Bombas

Scrub Daddy

Squatty Potty

Simply Fit Board

The Comfy

Investment most commonly asked for

£80,000 – $90,000

$280,000 – $290,000

Highest amount successfully requested

£200,000

$2.5 million
Which Came First Dragons Den Or Shark Tank?
The UK version Dragon's Den was first broadcast by the BBC on 4th January 2005.
Fronted by presenter Evan Davies, the Den played host to five fearsome dragons:
Duncan Bannatyne: Scottish health club founder, philanthropist and author
Rachel Elnaugh: English founder of UK gift company Red Letter Days
Simon Woodroffe: English founder of YO! Sushi and motivational speaker
Peter Jones: English telecoms doyen with wide ranging business portfolio
Doug Richard: US (Californian) entrepreneur, technology expert
A few years later, on 9th August 2009, ABC began to broadcast the US version, Shark Tank, which featured five spirited sharks:
Key Similarities Between The Shows
The entrepreneurs may come from different backgrounds, but they are all successful business people who are in a position to offer not only their hard-earned cash, but also their highly regarded professional acumen.
Both shows feature five investors, and these often change from season to season.
Contestants arrive with a ready-prepared pitch, outlining their idea. The dragon's and sharks ask questions and then choose to opt out, or express their interest and make an offer. If there's no deal the investors move on the next pitch and the contestant heads for the door!
Dragon's Den and the Shark Tank have grown in popularity over the years. Both TV shows are watched by millions, and have won numerous awards. Many of the dragons and sharks (and some of the contestants) have become household celebrities.
Key Differences
The investors are depicted as different wild creatures, the UK show has its dragons, and the US show has its sharks. All of the sharks and dragons are highly accomplished, professional people. However, the shark tank has a reputation for a being more riotous and rowdier than the den.
The sharks are not averse to interrupting and shouting over one another, whereas the dragons take a less aggressive approach. The UK investors don't back down from each other, but the mood seems lighter and there's an air of camaraderie along with the competitive edge.
The Most Successful Entrepreneurs On Each Show
A number of wealthy and prosperous investors have appeared on Dragon's Den and Shark Tank over the years.
Five of the Richest Dragons:
Peter Jones
According to the 2021 Sunday Times Rich List, the business mogul is worth around £1.157 billion.
Tej Lalvani
The health sector tycoon has racked up a healthy bank balance too, the 2019 Sunday Times Rich List listed his fortune at around £390 million.
Duncan Bannatyne
Best known for his Bannatyne health clubs, the Scottish entrepreneur has reportedly amassed a fortune of around £300 million.
Theo Paphitis
The Greek-Cypriot British retail industrialist and entrepreneur is alleged to be worth around £290 million.
Touker Suleyman
Touker started out as an accountant, which no doubt helps him to stay on top of his finances! With a net worth of around £200 million we don't think he has too much to worry about.
Five of The Richest Sharks
Richard Branson
He's not a permanent fixture on the show, but the English tycoon offered his services as a guest shark. Branson founded the Virgin Group and is reportedly worth around $4.89 billion.
Mark Cuban
The busy entrepreneur has a number of strings to his bow, including being co-owner of 2929 Entertainment, chairman of AXS TV, and owner of basketball team the Dallas Mavericks. He's thought to be worth around a cool $4.2billion.
Chris Sacca
Another guest shark, the venture capitalist made his fortune by investing in prime businesses such as Uber and Twitter.
Sacca is estimated to be worth around $1.2 billion.
Sara Blakely
Founder of the popular shapewear, Spanx, Blakely has made a heathy profit year on year.
The entrepreneur is estimated to boast a net worth of approximately $1 billion.
Kevin O'Leary
Mr Wonderful started his working life in his own basement, and now has an estimated net worth of $400 million.
The tech entrepreneur founded Softkey (a company specialising in computer software), and then a cold storage company.
The Most Successful Dragon's Den Products
Entrepreneurs have brought all sorts of business ideas and products into the tank and den. Let's take a look at some of the most successful.
Reggae, Reggae Sauce
Levi Roots stepped into the den in February 2007, showcasing his hot and spicy BBQ seasoning and sauce.
The pitch is deemed as one of the most successful in the show's history – take a look at the YouTube video and you'll see why!
Roots asked for 20% for £50,000, and after a lively pitch, he was offered the full amount by Peter Jones and Richard Farleigh, but for 40%.
The deal paid off, and the company is now worth around £45 million.
Craft Gin Club
Founded by John Burke and Jon Hulme in 2015, the Craft Gin Club has gone from strength to strength.
The pair visited the den in the summer of 2016 and charmed four of the five dragons. They ended up securing a deal for £75000 with Sarah Willingham.
She continues to sit on the board, and is no doubt as pleased by the success of Craft Gin as its founders.
Magic Whiteboard
Laura and Neil Westwood founded Magic Whiteboard in 2006 and took their product to the den in 2008.
Theo Paphitas and Deborah Meaden were impressed and offered the duo £100,000 for 40%.
The company has proved successful and the Westwood's brought back all of the shares in the company in 2014.
The Most Successful Shark Tank Products
Bombas:
Founders David Heath and Randy Goldberg pitched their comfy socks to the sharks during season six.
Impressed by their ethical business model (the duo donated a pair of socks to a homeless charity for each pair sold), Daymond John decided to invest $200000 for 17%.
Sales have rocketed and the company has earned over $200 million.
Scrub Daddy:
Aaron Krause pitched to the sharks in season four – showcasing useful cleaning sponges that caught the eye of Lori Greiner.
Krause was pleased with the offer of $200000 for 20% and the company has grown massively since – with earnings of over $200 million.
Squatty Potty:
Judy Edwards ventured into the tank during season six, alongside her son Bobby and their toilet footstool – the squatty potty.
The simple concept appealed, and Lori Greiner made a deal offering $350000 for 10%. The company continues to thrive and has secured over $160 million in sales.
Shark Tank Vs Dragons Den Canada
The Canadian version of Dragon's Den aired on October 3rd 2006. Dianne Buckner presents the show and it continues to run on CBC Television.
The show is similar to Dragon's Den UK and Shark Tank, with investors and entrepreneurs coming together to strike a deal.
Some have suggested that the Canadian version is less harsh than the American one, with the dragon's coming across as friendlier than the forthright sharks.
Dipping in the Tank or Strolling into the Den?
Two reality TV shows sharing a very similar format, both have given ample opportunities to budding tycoons. Whilst the investors on Shark Tank arguably take a harder line, the investors on Dragon's Den are no push overs.
The other big differences are the amounts offered and requested in the US far exceed the offerings in the UK.
The show teaches entrepreneurs a valuable lesson, if you're thinking of pitching to the sharks or dragons (or any other investors) make sure you know your business concept or product inside out – otherwise you might witness claws and teeth rather than their cash.
Get it right and you can secure investment and support that can take your business from mediocre to magnificent!