SlumberPod Net Worth 2022 – What happened after Shark Tank?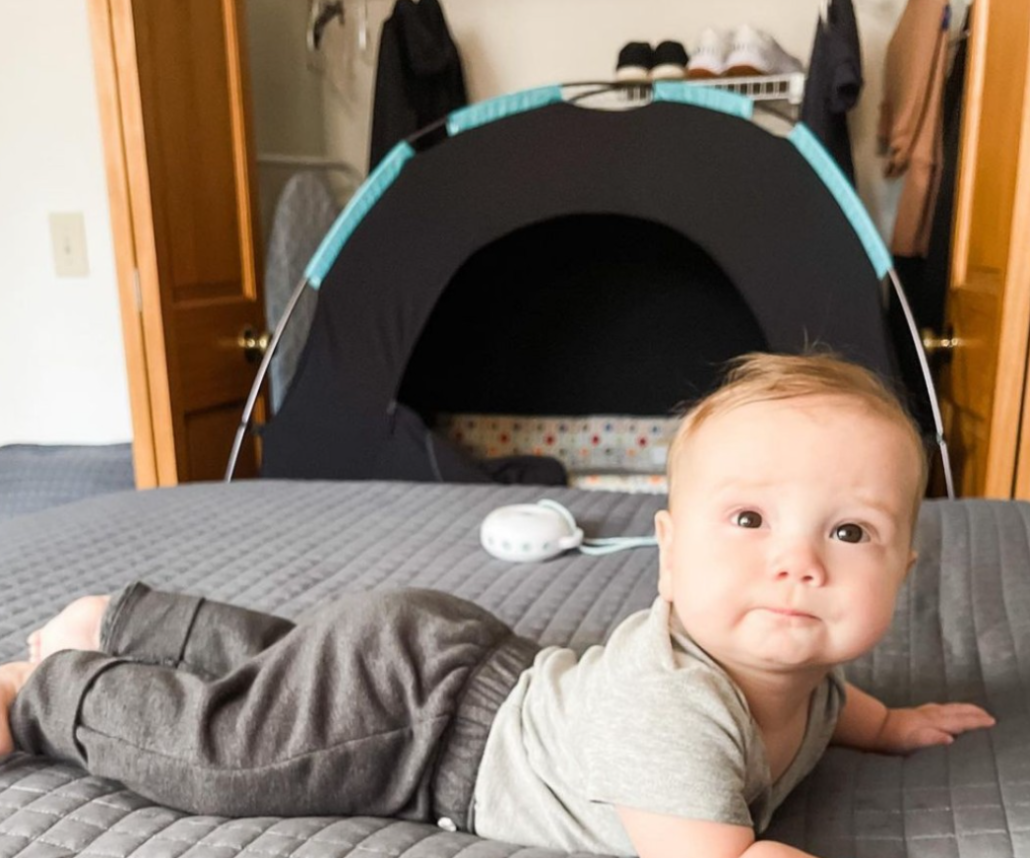 What is SlumberPod?
SlumberPod is a portable, mini blackout pod for babies and toddlers.
SlumberPod provides babies and toddlers with a private, dark place to sleep.
This snazzy travel item is a lightweight, portable pod that can fit into carry-on luggage, making it easy for parents to pack for holiday trips! In addition, SlumberPod can also be used in their rooms to ensure that your children sleep well!
What is Slumberpod's Net Worth?
| | |
| --- | --- |
| Company Name | SlumberPod |
| Owners | Katy Mallory and Lou Childs |
| Shark | Barbara Corcoran |
| Equity | 20% |
| Investment | $400,000 |
| Location | Georgia |
| Net worth | ±$5 million |
Who is The Owner of SlumberPod?
Katy Mallory and Lou Childs are the owners of SlumberPod.
The evolution of SlumberPod came in 2014 when Katy was visiting her mom, Lou over Christmas holidays. When travelling with her family, Katy kept seeking a private place for her baby to sleep.
After extensive searching, Katy believed she was better off creating her own. She fitted a crib with blankets. In 2016, Lou Childs and Katy Mallory came together to secure the business and SlumberPod was born.
Through a Kickstarter campaign, the SlumberPod team raised over $45000 with 356 backer and started selling their product in 2018. Prior to their appearance on the Tank, SlumberPod had already made over $556,000 in sales!
Why is SlumberPod so Popular?
Aside from the lightweight and portable design, the pod is completely dark giving babies and toddlers the soundly sleep they need.
SlumberPod is easy to put up and take down, safe and has breathable fabric so parents do not have to worry about the safety of the product for their children!
Check Out More Reviews
Overall Score: 96/100
Shark Tank Appearance – Did It Go Through?
The mother-daughter duo entered the Tank seeking $400,000 for 20% equity.
In addition to the appealing numbers, the Sharks like the fact that the company is profitable and debt free.
They came on the show in the hopes to find a shark to help them scale their production line and keep up with the demands!
Barbara offered the team $400,000 for 25% equity and a contingency that she gets a percentage of each sale until her money is made back. After some negotiating, they get Barbara to reduce the equity 20% and they accept the deal.
Where is SlumberPod Today?
The deal with Barbara has not close and they are still working in partnership with one another.
Since the initial airing, the company has accumulated sales of over 20,000 units and continues to expand their product catalogue.
Unfortunately, for a period they faced the challenges of dealing with knock-off products of their design but as of October 2021, they no longer have that issue thanks for their patent!
They have increased their exposure since the airing on Shark Tank and have made just under $5 million in annual sales.
Conclusion
SlumberPod is a brilliantly invented sleeping pod for babies and toddlers. Putting them and their parents at ease, regardless of the location.
Although they have faced some challenges in the past, this mother-daughter-duo continues to surpass it all and remain determined to make their company a success.
Check Out More Reviews
Overall Score: 96/100