Vade Nutrition Net Worth 2022 – What Happened After Shark Tank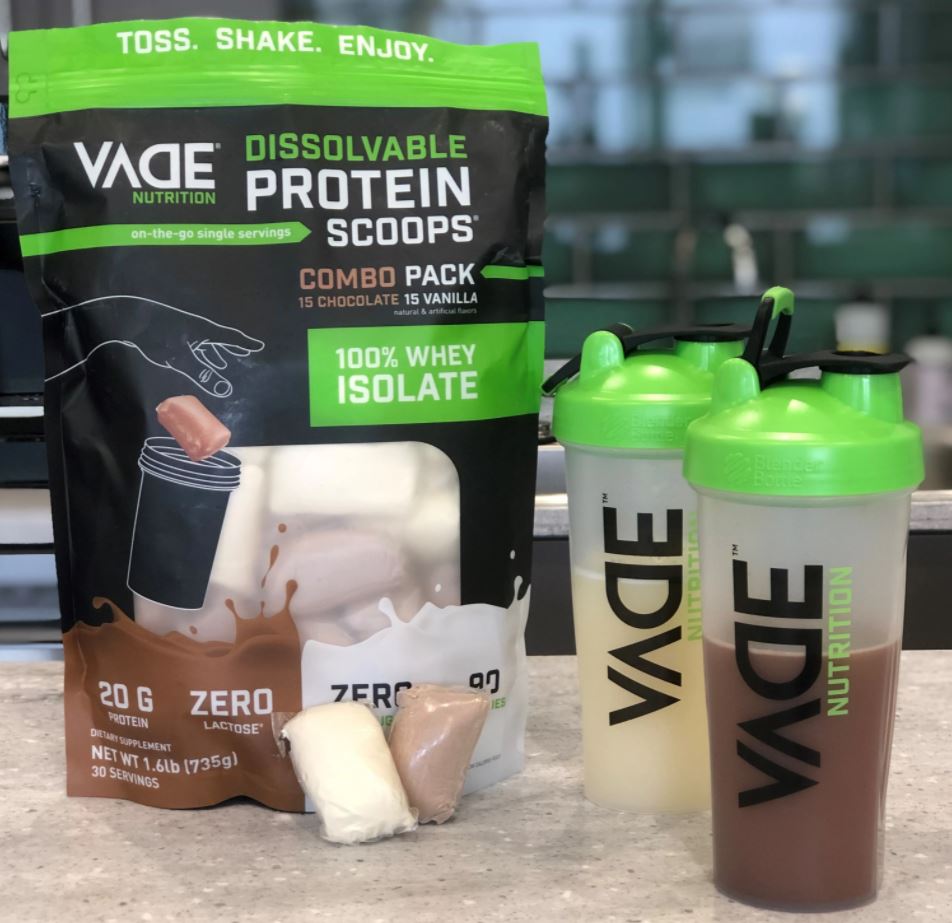 Introduction
With the protein powder craze rushing over the world, Joe and Megan Johnson from Michigan got in on the action in the best way possible. They made lives easier for people who love protein powder but hate the mess or the time it takes to measure out your scoops.
The Sharks loved the product and two made an offer which the couple accepted.
Read on to find out all about VADE and how things went down in the Tank.
What is VADE?
Vade is the Latin word for vanish. Vanish is exactly what the clear coating around the protein powder does in the VADE protein capsules.
VADE is made up of triple-filtered whey isolate. The powder is targeted to boost energy enhance performance in the gym and reduce overall fatigue.
The meal replacement product also comes in convenient little dissolvable pods. The meal replacement contains pea protein and brown rice protein to provide extended feelings of fullness as well as a protein and nutrient boost.
The company also offers pre-workout and extreme pre-workout packs. These pods are filled with 400mg of adenosine 5'-triphosphate disodium to enhance muscle building, endurance, and reduce workout fatigue.
Watch here as the founders discuss their product.
| | |
| --- | --- |
| Name | Vade Nutrition |
| Net Worth (2021) | |
| Pitch | Protein powder pods for on the go protein shakes |
| Entrepreneur | Joa and Megan Johnson |
| Asked for | $250,000 for 10% equity |
| Deal | $700,000 for 40% split in 50/50 |
| Shark | Mark Cuban and A-Rod (Alex Rodriguez) |
| Confirmed Deal | No |
| Still in Business | Yes |
| Monthly income | $500,000 |
Who are the Johnsons?
Joe and Megan Johnson are a married couple who love the pump!
They are both gym nuts and love their pre-workouts and protein shakes. As a former Michigan state wrestler and Arizona state cheerleader, the husband and wife duo go through a lot of protein powder.
Their number one peeve was dealing out the powder in the car into bottles and shakers and ending up with powder all over the console, themselves, and the seats. They thought that there must be a better way to get their shake in without all of the mess.
And so they came up with the pods that have a food-grade capsule around them that dissolves in liquids. This means all the pros and none of the cons of dishing out your protein shake.
Check Out More Reviews
Overall Score: 95/100
What happened during the pitch?
The couple approached the Sharks for a sizeable investment after sinking $300,000 into the company on their own.
They had had issues with a distributor where they effectively lost $50,000 worth of inventory and could not get a refund.
Mark Cuban told them that that was pretty much what being an entrepreneur was all about: taking risks and sometimes paying for them instead of them paying off.
The investment
However, Cuban did like the pitch and the product and was very interested in their pending patent. He put in an immediate offer of $350,000 for 20% equity.
Lori Greiner was about to enter negotiations and make an offer when guest Shark, A-Rod, jumped in and told the couple that what they were selling, he was interested in buying.
A-Rod told them that he was a sports icon which meant people believed in him and that he owned gyms which meant that the product could be sold directly to people where they need it the most.
He offered a joint investment with Mark Cuban of $700,000 for 40% equity. The couple tried to bring them down to 25% but Cuban would not budge. Eventually, they accepted the offer.
Conclusion
The dream deal with A-Rod and Mark Cuban did not go through.
However, the sales for VADE are up and the business is doing well. They have expanded their product line and developed a very loyal customer base.
Check Out More Reviews
Overall Score: 95/100