Wad-Free Net Worth – What Happened After Shark Tank?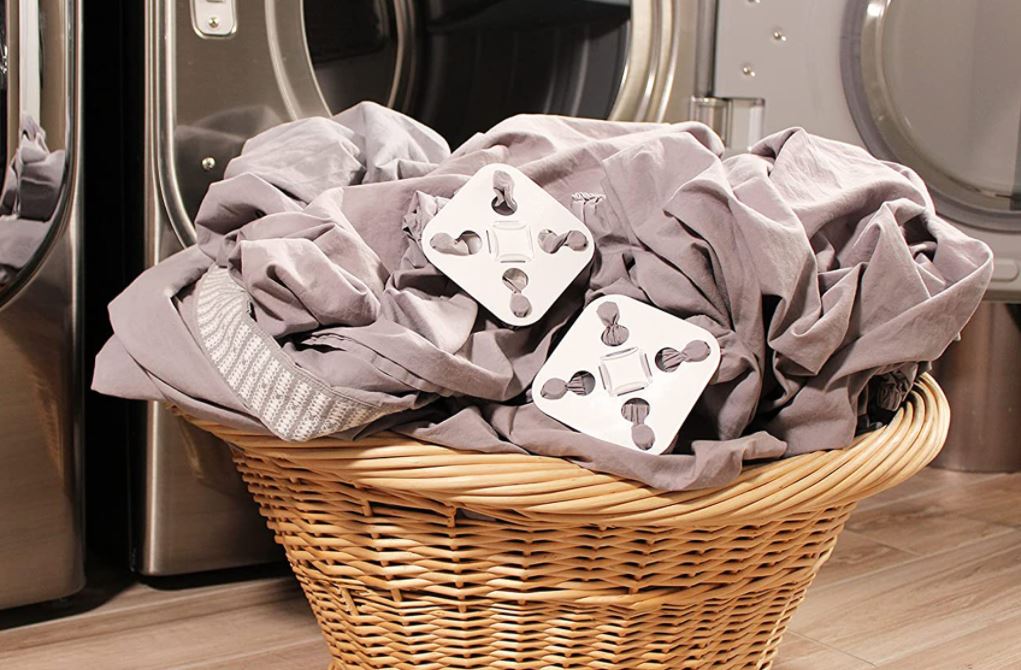 Introduction
"Saves time, saves money, saves energy, saves sanity" is the motto of Wad-Free, the innovative laundry detangling gadget.
Cyndi Bray, owner and inventor of Wad-Free appeared on Shark Tank and netted herself Mr Wonderful in no time!
What is Wad-Free?
Wad-Free is a laundry gadget. Its main function is to prevent flat and fitted sheets from balling/wadding up in the washer and dryer.
The small square securely holds the four corners of any sheet/blanket/towel that you need to be washed and dried.
The plastic contraption is a simple answer to the problem of tangled, twisted, and wet sheets.
By securing the four corners of the sheet, the item can wash and dry faster which means less time, energy, and electricity is used in the long run.
Check Out More Reviews
Overall Score: 91/100
WHAT IS WAD-FREE'S NET WORTH?
| | |
| --- | --- |
| Name | Wad-Free |
| Net Worth (2022) | $5 Million |
| Pitch | Sheet detangler to save time and money |
| Entrepreneur | Cyndi Bray |
| Asked for | $200,000 for 5% equity |
| Deal | $200,000 for 5% with a $1.50 royalty per unit until $100,000 was recouped |
| Shark | Kevin O'Leary |
Who is Cyndi Bray?
Cyndi Bray was a woman who detested laundry day when she had to do her bed linen. The sheets would come out twisted, tumbled, and not completely dry.
In the middle of the Covid-19 lockdown in 2020, she sat down and educated herself on the physics of how sheets move in the washer and dryer, taught herself CAD, and researched injection molding.
Within 14 months, Bray had managed to design her logo, make her packaging, set up her website, create instructional videos, and launch her product!
Watch one of her product videos here!
Wad-Free got the stamp of approval from Grommet.com which gave Cyndi Bray the confidence to apply to Shark Tank.
What happened during the pitch?
Cyndi Bray went onto Shark Tank confident in her product and her pitch as she is a mega fan. Bray asked for a $200,000 investment in exchange for a 5% stake in the business.
Kevin "Mr Wonderful" O'Leary was thoroughly impressed by her ambition, aptitude, and presentation and made her an offer of $200,000 in exchange for 10% equity in addition to a $1.50 royalty fee for product sold until he recouped $1,000,000.
QVC Queen, Lori Greiner, jumped on board immediately as she saw the potential in the product itself and the ability to market it with another bedroom product she had already invested in. She offered the full $200,000 in exchange for a 25% stake in the company.
The investment
Bray countered Greiner's offer and asked her if she would be willing to lower the equity stake to 10%. Eventually, Greiner dropped her offer to 20% instead of 25%. However, at the same time, Mr Wonderful earned his name!
O'Leary dropped his offer from 10% to 5%! Cyndi Bray said that this voluntary drop in equity told her that O'Leary was confident in the product and was the right partner to pick. Bray and O'Leary sealed the deal!
Conclusion
Wad-Free can be found online on their website or through Amazon and Walmart. Bray continues to promote her brand and connect with other entrepreneurs through social media.
Check Out More Reviews
Overall Score: 91/100