Xero Shoes Net Worth 2021 – What Happened After Shark Tank
Xero Shoes business partners, Steven Sashen and Lena Phoenix asked the Sharks for $400,000 for 8% equity in the company.
Their product, and the couple, did not inspire the Sharks and they walked out barefoot and without a deal.
The company got a lot of exposure however and has an estimated net worth today of over $5 million.
What Are Xero Shoes?
Xero Shoes are extremely lightweight sandals and shoes designed for comfortable recreational wear.
The shoes are minimalist with a natural feel to imitate barefoot walking. Sashen explains the concept of natural barefoot locomotion here.
Xero Shoes are inspired by the huaraches worn by the Tarahumara Tribe from Mexico, who are legendary runners.
Xero Shoes Quick Facts
| | |
| --- | --- |
| Name: | Xero Shoes |
| Net Worth (2021): | $5 Million (Estimated) |
| Pitch: | Lightweight, minimalist, "barefoot" sandals and shoes for recreation |
| Entrepreneur: | Steven Sashen and Lena Phoenix |
| Asked for: | $400,000 for 8% |
| Deal: | No deal |
| Shark: | None |
Who Are Steven Sashen And Lena Phoenix?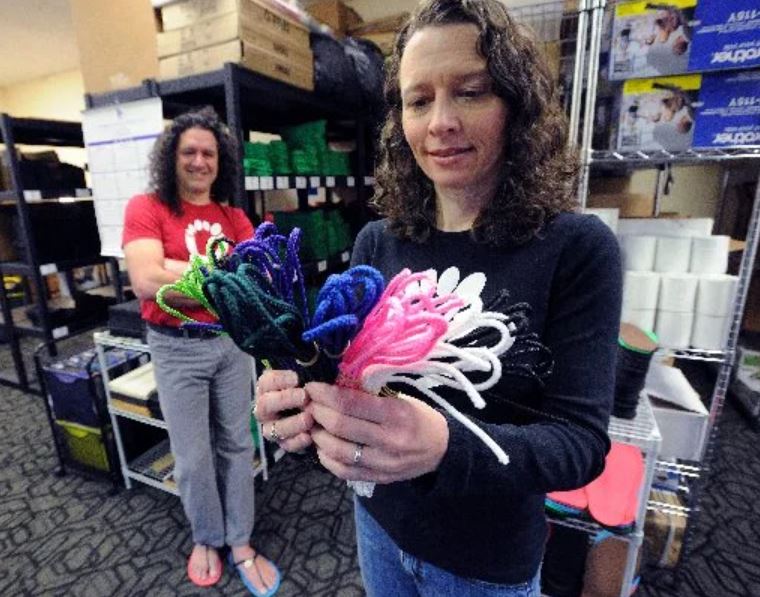 Steven Sashen and Lena Phoenix are husband and wife business partners who have a range of entrepreneurial endeavors to their name.
Sashen became convinced, from his own running experience, that running and walking barefoot is best. However, although comfortable, barefoot is not always practical.
Sashen understands feet and the motions feet go through when walking and running. This knowledge led him to design his first barefoot running sandals from Vibram rubber and colored cords. Other runners became interested, wanting their own, and soon, Xero Shoes was born.
Watch Sashen discuss Xero Shoes and the principles for strong feet in the Harvard Guide to Healthy Feet.
What Happened During The Pitch?
Sashen and Phoenix presented an upbeat pitch that got the Sharks' attention. They told their personal story of how Xero Shoes came about and then asked for $400 000 for an 8% share of their business, which they valued at $5 million. The Sharks were dubious at the valuation.
The pair wanted the investment to improve their current market position, based on their superior product.
Sashen invited the Sharks to try the shoes. Robert Herjavec, being a runner, volunteered. He tested the shoes on different surfaces and claimed that they felt "great" but they did look a bit weird.
Daymond John was rather dismissive of the rubber and string product valued at $5 million and declined to continue negotiating.
Kevin O'Leary was sceptical because the product was so simple and appeared to be easy to copy. Sashen revealed that their design was patented.
The Investment
Kevin O'Leary stated that he would make an offer "just for the heck of it". He offered the pair $400,000 for 50% equity, saying the business was worth about $800,000.
Sashen told O'Leary that he would not take that offer immediately, to Mark Cuban's surprise. O'Leary called the pair delusional entrepreneurs and Barbara Corcoran told Sashen he reminded her of her first husband and he gave her a headache. She was out.
Herjavec said he loved the product but not at their valuation. He was out.
O'Leary invited a counter proposal and Sashen said they would go from 8% to 10%. Mark Cuban was out, but not before he expressed his negative feelings at the couple's business savvy.
O'Leary pushed for a response to his offer. Sashen declined.
Conclusion
Although Xero Shoes didn't get a Shark investment or endorsement, the business has gone from strength to strength. They received an investment of $1 million in 2017 and another of $12.5 million in 2020.
Watch this Shark Tank Missed Opportunity video here.
Xero Shoes and Sashen's philosophy of natural barefoot walking and running is not without controversy. Members of the medical fraternity are not as convinced as Sashen and Phoenix as to the safety of minimalist, barefoot shoes for everyone. However, the numbers talk and the business continues to make money.
Xero Shoes, manufactured in China, are available on Amazon, directly from their own website and in retail outlets internationally.